Jennifer Lopez is a 'simple person' who 'loves family' Alex Rodriguez reveals
A-Rod gushes over J.Lo on 'The View' saying she's an 'amazing girl' and an 'awesome athelete.'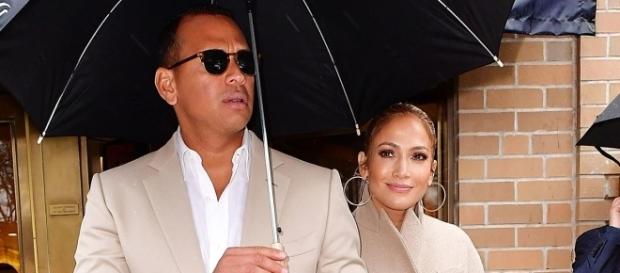 Alex Rodriguez appeared on an episode of 'The View' and revealed details about his new relationship with Jennifer Lopez. A-Rod was first romantically linked to the singer and actress earlier this month. The two were even photographed vacationing in the Bahamas together a few weeks ago.
The pro athlete gushed over his new woman to the panel
The professional athlete is the first of the two to say anything to the public about the new relationship. Rodriguez began by saying that they had been having a 'great time' together, according to NY Daily News.
A-Rod told 'The View' panel that he thought Lopez, 47, was an "amazing, amazing girl." One of the smartest human beings I've ever met and also an incredible mother."
The former professional baseball player said he enjoyed Jennifer's company and loved that she was so athletic.
"She was a track star in high school and junior high, so she's an awesome, awesome athlete." It also probably doesn't hurt that J. Lo is from the Bronx and has been a lifetime Yankees fan.
According to E! News, Lopez and Rodriguez first met 12 years back at Yankee Stadium before a game.
Jennifer Lopez Spotted in Bahamas With A-Rod - https://t.co/BEkYTUph7B pic.twitter.com/iiyXTZpVpc

— Ellen K (@officialellenk) March 13, 2017
The 41-year old added that she was a "simple person" who "loves family" saying, "she's a great sister, a great daughter."
Before her romance with Alex Rodriguez went public, Jennifer Lopez was romantically linked to 'More Life' rapper Drake.
It's time we investigate Jennifer Lopez disappearing from Drake's song Get Together. https://t.co/mzj84bXBip pic.twitter.com/1qAQLDd9KY

— E! News (@enews) April 1, 2017
Meanwhile, A-Rod recently broke up with Silicon Valley tycoon Anne Wojcicki.
Both Lopez and Rodriguez have been married before. Jennifer has two eight-year-old twin children. A-Rod also has two children who are eight and twelve.
Spotted in NYC on a romantic date
More recently, the couple was spotted on a lunch date in New York City, according to E! News. Onlookers claimed that Lopez looked "very happy" as she left Madea, the hot spot restaurant they had dined at.
Sorry to have ever doubted you, J.Lo and A-Rod: Here's why the skeptics are wrong. https://t.co/0eAaKs7y42 pic.twitter.com/n8TssBOt3k

— E! News (@enews) April 1, 2017
The new celebrity couple even matched each other in beige jackets. A-Rod escorted his lady out of the restaurant and held an umbrella above her heads before heading into a car, reportedly arriving at an apartment building uptown shortly after.
EXCLUSIVE: J.Lo and A-Rod take their love out to lunch https://t.co/Ptfwzti3I9 pic.twitter.com/9sGwJYAI4V

— Page Six (@PageSix) March 31, 2017
While it is clearly obvious that the celebrity couple's relationship is no longer as "casual" as they once claimed it had been, the big question that seems to be on everyone's mind is what their celebrity couple nickname will be. J-Rod or A.Lo? Which name do you think the celebrity couple will be known as? Comment below!
Click to read more
and watch the video
or