Mama June shows weight loss in fat suit: fits size 4 for Sugar Bear's wedding?
'Honey Boo Boo' Mama June wins weight loss, fails acting: 'From Hot to Not' fails in unrealistic fat suit, faked bariatric surgery.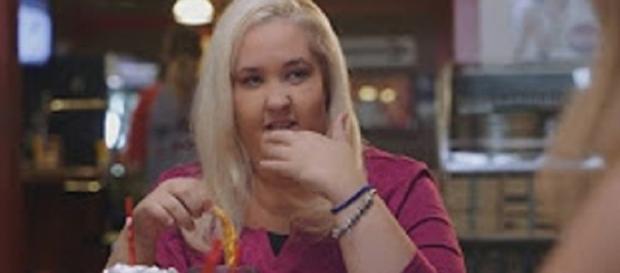 "Here Comes Honey Boo Boo" matriarch Mama June Shannon promises a big weight loss makeover in her new reality TV show "From Not to Hot," but is she going at it the wrong way? Shannon had bariatric surgery and plastic surgery months ago and is trying to hide her new body in a fat suit. The poorly fitted latex body fails to convince viewers, as does June, acting the part of a post-gastric bypass surgery patient. Probably the most awkward fail is when she gets a "revenge dress" to wear to her ex Sugar Bear's wedding.
Mama June fakes obesity in a big way
Shannon has said for a long time that she has lost weight but no one noticed.
The "Honey Boo Boo" star said she did it only with diet and exercise which is half true. The celebrity has dieted and worked out but she also had gastric bypass surgery in 2015. Now, on "From Not to Hot" she tries to make people think she only now recovering from the procedure. June pretends to limp and groan from obesity. Even factoring in that scenes were filmed months ago, it's obvious that Shannon had bariatric surgery long before that, and then there's that bizarre fat padding.
Mama June suited up in fat for reality TV
After the first WEtv episode of "From Not to Hot" viewers cried foul over seeing Mama June clearly padded. In the second reality television episode teaser, her latex double chin is even more apparent. You can see a much tinier face inside. As she comes home (to her glorious new residence) after supposed weight loss surgery, Amber gives June a new "revenge dress" in size 4.
It's to wow at the wedding of former boyfriend "Sugar Bear" Mike Thompson and his new bride. Shannon theatrically declares that she is a size 22/24 now and wonders how she will ever get thin enough (cue dramatic music).
Mama June's awkward reality show
Part of the trouble is that viewers must constantly remember that they are watching events that happened months ago. But reality television celebrities are always in the news and details come out ahead of time. Mama June is compounding the problem trying to cover up the transformation. Will viewers have to pretend not to notice her shedding the fat suit bit by bit in upcoming episodes? The most awkward moment was when Shannon proclaimed in front of Honey Boo Boo that her dad Sugar Bear would want to "hit that with his sausage" when he sees his ex in her red dress. #HoneyBooBoo #MamaJune #Weightloss