Donald Trump demands Snoop Dogg be put in jail after controversial music video
Donald Trump is not happy with rapper Snoop Dogg's latest attempt at satire and lashed out on Twitter to express his anger.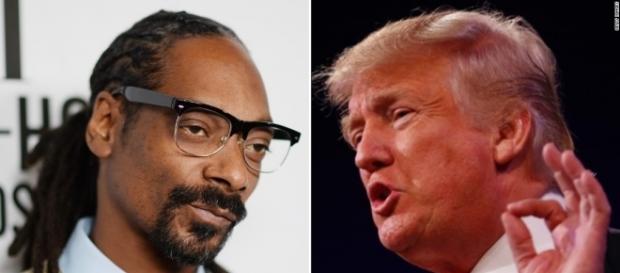 Over the course of his entire campaign for president, #Donald Trump used social media to attack various celebrities who were critical of his run for office. After rapper #Snoop Dogg made a controversial #Music Video that targeted the president, Trump decided to take aim on Twitter.
Trump on Snoop
It's no secret that Donald Trump has used an unorthodox style of communication for a sitting president. While running for office, the former host of "The Apprentice" would come under fire from the press, and members of the Republican Party, for spending time firing back at Hollywood stars and other celebrities who were critical of his policies.
Since the election, Trump has increased his war of words with the media, and the feud has led to the billionaire real estate mogul bypassing the press by taking advantage of his social media presence. With over 26 million followers on Twitter, Trump can change the news cycle with a single tweet, which he did during a string on messages on Wednesday morning. As part of his tweet-storm on March 15, Trump went after Snoop Dogg over a new music video that was recently released to the public.
Can you imagine what the outcry would be if @SnoopDogg, failing career and all, had aimed and fired the gun at President Obama? Jail time!

— Donald J. Trump (@realDonaldTrump) March 15, 2017
In the music video for the song "Lavender," Snoop Dogg could be seen walking next to a clown version of Donald Trump, pointing a toy gun at the character, and pulling the trigger to release a flag with the words "Bang" written across it.
In response, the president took to his Twitter account to voice his opposition, while calling out the hypocrisy if the same was done about former President Barack Obama. "Can you imagine what the outcry would be if @SnoopDogg, failing career and all, had aimed and fired the gun at President Obama?," Trump tweeted, before adding, "Jail time!"
"Jail time!": President Trump condemns new Snoop Dogg video in early morning tweet https://t.co/ijAZ9XE1Wn pic.twitter.com/YECNxjHs0h

— The Hill (@thehill) March 15, 2017
Right-wing reaction
Prior to Donald Trump's Wednesday morning tweet on the issue, supporters of the president were not happy and ridiculed Snoop Dogg for including the image of violence against the commander in chief. Florida Sen. Marco Rubio spoke to TMZ about the incident, stating, "If the wrong person sees that and gets the wrong idea, you could have a real problem." Other right-wing news outlets made sure to run with the story, using it as another example of alleged radical behavior against Trump from the political left.