Brad Pitt divorce has celebrities taking his side as standing ovation rocks Golden Globes?
The Golden Globe audience gave Brad Pitt a standing ovation, and the feeling emerged that his peers support him through his messy divorce!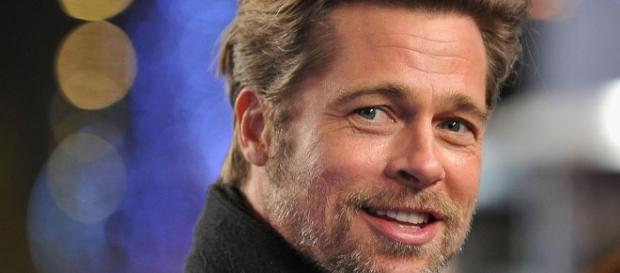 #Brad Pitt has been through the ringer in the last couple of months as his split from #Angelina Jolie has made headline news, with allegations that weren't very pretty. You can only image how Pitt must have felt walking into the Golden Globe Awards without the woman who has been on his arm for the past decade.
Surprise all around
When Pitt showed up at the Golden Globes, it was a surprise for many to see him there. But he looked equally surprised when he was given a standing ovation by his peers. While the words weren't said, this standing ovation seemed to indicate his fellow actors were on his side. The Inquisitr asks, "Did Hollywood just take his side in his nasty divorce?"
That #GoldenGlobes room felt very PRO-#BradPitt as he gets a big round of applause https://t.co/zPxlTtmkxh pic.twitter.com/XWV6DsOP3j

— The Gossip Hustle (@TheGossipHustle) January 9, 2017
Standing ovation worth a thousand words!
One can't help wonder if Angelina's overwhelming mainstream acceptance over the past decade didn't have something to do with Brad Pitt.
The A-list actress was always considered a bit bizarre from some of her antics in the past, like wearing a vile of her previous husband's blood around her neck, or popping off that seemingly romantic kiss with her brother in public.
Never picked up odd behaviors?
Pitt never fell into those idiosyncrasies once he hooked up with Angelina, but he did become a very large family man over the past decade. Angelina has done some wonderful work with people around the globe when it came to traveling the world to the impoverished areas, so she has matured greatly over the years. As a couple they were well admired as actors, but also as caring human beings.
Still dreamy after all these years #bradpitt @goldenglobes #goldenglobes pic.twitter.com/AVdjdpTCN7

— Anne Bratskeir (@AnnieBrat) January 9, 2017
Split too public?
Brad was having a rough time with Angelina keeping the information about their divorce private.
He was only thinking of the kids when he applied for an emergency request to have the custody files sealed, which was denied. Then Angelina agreed to keep it sealed, but not before some of it was made public. What was learned from the documents was that Pitt had agreed to random drug and alcohol tests, as well as therapy sessions in the temporary custody agreement.
How broken Brad Pitt had the most agonising Christmas EVERhttps://t.co/hXCQyFoxbi via @Femail #bradpitt

— Mel💔💔for Tootee 🌈 (@budgeco) January 1, 2017
Cleared of 'wrongdoing'
Before they even filed papers, all types of allegations were made about Pitt by Angelina regarding his drinking and the treatment of his son while on a private jet. Accusations that he was verbally and physically abusive to his children were investigated by the FBI and he was cleared of all these claims. If it sounds a bit odd that the FBI got involved, there is a good reason for this and it has nothing to do with Brad and Angelina's fame.
FBI investigates a domestic case?
The allegations that Angelina brought against Brad stem from a time when the Jolie-Pitt family were flying home from overseas on a private jet.
The only agency that would have jurisdiction over this location (mid-air between two countries) would be the FBI, so they got involved. They cleared Brad of any wrongdoing.
Back to that tremendous welcome that Brad Pitt received at the Golden Globe Awards... was it the audience's way of taking sides? Or was it their way of saying they support their friend in what he is going through right now? #Celebrities