Kim Kardashian has freed her nipples in new trend spawned by mastermind Kanye West?
Is this Kim Kardashian's new fashion trend to let her nipples and a few other assets be seen by leaving all underwear at home when going sheer?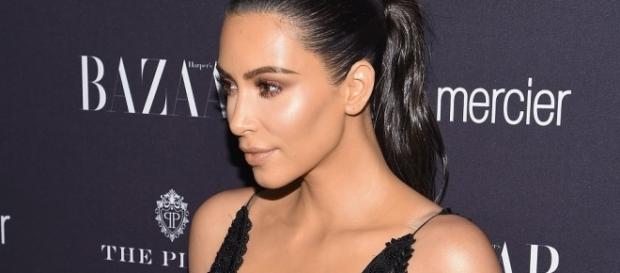 In the wake of an epic fail for Kanye West at New York's Fashion Week, Kim Kardashian and her recent tendency to show her nipples is making the world forget all about that fashion mess. Is this a case of when all else fails divert the fallout by letting your nipples shine through? If that is what Kim had in mind...it's working. 
Cleavage is out and nipples are in!
There's not much in the headlines today about the awful fashion show offered by Kanye this week as Kim's new trend of showing her nipples has taken over the headlines. This mom of two has taken to wearing what looks like see-through bras with an open shirt or jacket or going bra-less wearing an ultra sheer top.
Either way the first thing that you see are her nipples!
Kim at #BAZAARIcons Party 9.9 pic.twitter.com/cBRbDpQeTH

— Kim Kardashian Fan (@UltimateKimK) September 10, 2016
Sheer dress over naked body doesn't leave much to imagination!
Last night she not only offered up a see-through breast shot, but she wore a dress that was so sleek it left no room for underwear, reports BET News. It is easy to see that the new trend of nipple freedom comes from the mind of her fashion designer husband. Despite West's models walking the run-way with legs bowing and ankles twisting as their shoes disintegrated, there were plenty of nipples! All of his models dressed in tight, see-through body suits.
Gone is wardrobe malfunction -- nipples are deliberate!
It used to be called a wardrobe malfunction, but that was when it happened unexpectedly. Kim and her Kardashian and Jenner sisters are trend setters when it comes to fashion, so if they are offering this breast exposure in public then it is just a matter of time before nipples will pop through all types of attire!
Inspiring mind of fashion designer Kanye West?
Kanye has often said that he dresses his wife and many of his inspirations come from her.
His Fashion Week will go down for two new things he brought to the masses, the peek-a-boo nipple and shoes that disintegrate on contact. You can see in the video below where some of the models in his show took their life in their hands trying to walk on shoes that put them at nose-bleed heights only to have their spike heels bend and sway.