President Donald Trump finally moves the first lady and his son into new home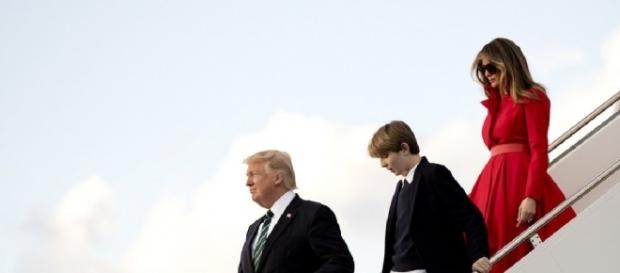 First lady Melania Trump has officially moved into the White House with her husband, President Donald Trump [VIDEO]. Barron Trump, who is President Trump's youngest son, also moved into the White House as well. The Trump family finally made the move after spending almost the first five months of continuing their stay in New York at the Trump Tower.
Trump and his family arrived at the White House sometime around Sunday evening. They were also accompanied by Melania's parents, Viktor and Amalija Knav. According to "Business Insider," Sunday's move occurred earlier than initially expected - a Politico report from last week said the first lady was set to move on Wednesday, June 14, coinciding with President Trump's 71st birthday.
Getting settled in
Barron Trump, who is only 11-years-old, is the first boy to live in the White House since John F. Kennedy Jr. who was only 3-years-old when his father was sworn into office. A huge part of the reason President Trump's family did not move in immediately following his inauguration was that Barron was still attending school at Columbia Grammar and Preparatory School. The Trump family appeared in good spirits when they arrived at the White House Sunday evening.
Looking forward to the memories we'll make in our new home! #Movingday pic.twitter.com/R5DtdV1Hnv

— Melania Trump (@FLOTUS) June 12, 2017
Melania Trump, son Barron officially move in to the White House https://t.co/4HZq7xCeMQ via @finnygo pic.twitter.com/ZcAv4DMcde

— Fox News (@FoxNews) June 12, 2017
President facing issues
For President Trump, moving in the first family has been about the only good news for him as of late.
This past week, former FBI Director James Comey [VIDEO], testified against Trump about his alleged ties with Russia during his 2016 presidential campaign.
According to "NBC News," Former FBI Director James Comey's dramatic testimony before Congress on Thursday brought big audiences to U.S. broadcast and cable networks, drawing about 19.5 million viewers, according to data from the Nielsen rating agency. On the day before the Comey testimony, the NBA Finals game three attracted a total of 20 million viewers. Numbers show just how much the event has affected President Trump publicly.
Use of social media
The President continues to use social media as a way to insult his enemies. On the same day that he finally moved his family into the White House, he still managed to use Twitter to voice his opinion of James Comey. In his latest tweet about Comey, he described him as 'cowardly!'
I believe the James Comey leaks will be far more prevalent than anyone ever thought possible. Totally illegal? Very 'cowardly!'

— Donald J. Trump (@realDonaldTrump) June 11, 2017
President Trump has continued to be outspoken about the investigation as details continue to unfold. The possibility of there being recorded conversations could be the key proof of who is telling the truth regarding the matter.
Click to read more
and watch the video
or