Barron Trump makes maiden voyage along with Melania's parents on Air Force One
All eyes are on the young son of Donald and Melania Trump as Barron looks as if he's grown a foot since he was seen at the inauguration.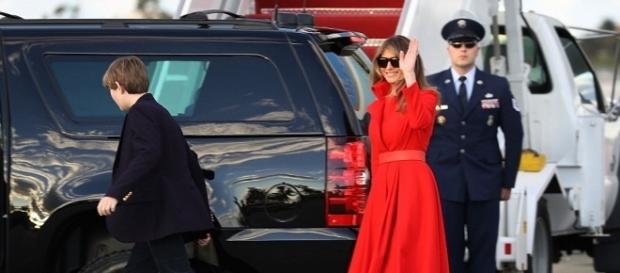 All on board #Air Force One, now that is not a phrase you'll hear coming from another family in the nation today. When Donald and #Melania Trump boarded the iconic presidential jet this weekend, they were joined by their young son Barron and Melania's parents.
According to Honey9, this trip to Florida is thought to be Barron's maiden voyage on board Air Force One. It is most likely Melania's parent's first trip in this jet as well. Viktor and Amalija Knavs made their way down the steps and onto the tarmac, where cameras eagerly waited to get a rare picture of the couple.
Slovenian-Americans Viktor & Amalija Knavs (Melania Trump's parents) arrive in FL on Fri. Media doesn't show them very often. pic.twitter.com/KYEuvu11Bj

— #WeWonItAll (@GodlessNZ) March 18, 2017
Barron Trump will be celebrating his 11th birthday day on Monday March 20! pic.twitter.com/qkUjg4IeyG

— TRUMP MOVEMENT (@TRUMPMOVEMENTUS) March 18, 2017
From north to south
Both were dressed in dark clothes and sunglasses, looking very much like they just came from the chilled air up north.
Barron's trip started at the White House on Friday and cameras were snapping away as he made his way across the White House lawn with his parents.
Too big, but too young?
#Barron Trump is at that awkward stage where a kid his age and size in an average American family would find himself just too big for the kid's table during a holiday meal, but not old enough yet for the adult's table. Barron doesn't have to worry about jockeying around for a seat at any table, as his situation is much different than a kid in an average American family. He probably has his own designated seat, like his father does at the family dinner table!
#firstdayofspring

🎉🎂Happy 11th Birthday #BarronTrump!! 🎂🎉

God bless you! pic.twitter.com/zN1NFuS2y6

— Pink Lady 4 Trump♥ (@pink_lady56) March 20, 2017
One can't help but notice that he is in an age group all by himself within the Trump's extended family.
All four of his siblings are much older than he is and their children, to whom he is an uncle, are much younger than him. This doesn't leave him with anyone his age to play with when the family is all together. But from what the nation has seen of Barron so far, it looks as though he can find fun with kids of any age.
Forget age difference
The age difference certainly didn't stop Barron from entertaining his baby nephew with a game of peek-a-boo while in the background of his father signing executive orders after the inauguration ceremony in January. That was one scene that warmed hearts around the country and made Barron America's first son!
Happy 11th Birthday Barron Trump! America♥️you.#MAGA #TrumpTrain #ComeyHearing #Trump pic.twitter.com/qGvgVQTUq3

— Tennessee (@TEN_GOP) March 20, 2017
Regular kids!
From the look of the few snapshots in time that the public have seen of Barron and Donald Trump's grandchildren, other than coming from homes that are gilded in gold, they are normal American kids.
Hard to be awestruck?
Flying on a private jet is something that Barron has done all his life, so jumping on board Air Force One might not leave him as awestruck as it would other kids his age. Now that the nation has been given the official word that Melania and Barron intend to make the White House their official home come June, America might get to see more of the lad who has become an infatuation for many in the nation today.