Avant-garde takes center stage at Paris Fashion Week
Aside from the usual ready-to-wear outfits, Paris Fashion Week also showcased unique avant-garde designs.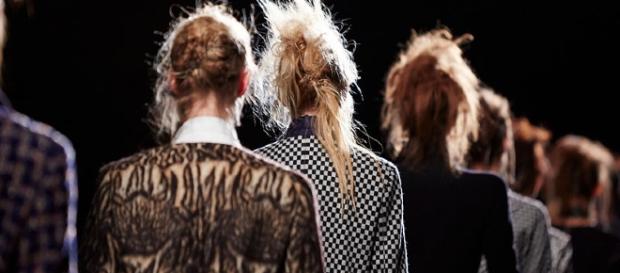 #Paris Fashion Week recently presented a distinctive avant-garde style on two of their runway shows. Designer Rick Owens wowed the audience with gigantic pieces, while Off-White chose to recreate Cinderella's shoes.
Owens' show at Paris Fashion Week was done outdoors to emphasize the avant-garde style embedded in them. The models wore outfits inspired by structured geometric designs with pillows, foams and sponge holes, Vogue reported.
Some of those who witnessed the show commented that the collection looked like costumes from Lady Gaga's concerts or from Spongebob SquarePants. The color schemes and palettes were also very minimalist, with the appearance of black, white and gray.
Owens is an American designer who hails from Porterville, California. He took his education at the Otis College of Art and Design in Los Angeles. His fashion line provides menswear, womenswear, footwear, and accessories.
Social media
There were various reactions on social media regarding Rick Owens' creations. They described the collection while inserting jokes and puns in their comments.
Twitter user Alla Prima Donna wrote, "[The] new collection looks like when I tried to make princess gowns by wrapping myself in my bedsheets as a kid."
Meanwhile, New York Times' Matthew Schneier tweeted that the best part of the show was "the soundtrack of maniacal laughter." He added that the designer combined this with "his spritzing fountain backdrop."
Other netizens placed a photo of Spongebob SquarePants side-by-side with images from his collection.
They also noted that it was only at Paris Fashion Week where models got to wear "black plastic ponchos and garbage bags."
Because "fashion." And I'm Gumby, Dammit. And We're From France. #I'mGumbyDammit #We'reFromFrance #Gumby #Coneheads #RickOwens pic.twitter.com/GDs0PekFzB

— MouthGuard (@MouthGuardOG) September 29, 2017
Cinderella's shoes
Another avant-garde show was that of the Spring 2018 collection of Off-White. Designer Virgil Abloh decided to recreate the glass shoes of Cinderella by partnering with renowned shoe brand Jimmy Choo, Popsugar reported.
The thing with #RickOwens is that I NEVER know what's going on but somehow I'm always here for it #SS18 #PFW2018 pic.twitter.com/SAWpGkXNbX

— Dʒemz (@Bobzitoo) September 29, 2017
The models wore the shoes that were literally wrapped in transparent plastic to achieve the avant-garde style for the glass slippers. They wore them with dresses in different colors of pink, black and white. These outfits ranged from long-sleeve pieces, off-shoulder attires to ruffled ones.
Off-White is known for providing urban wear with unique prints and textured accents. Paris Fashion Week runs from September 25 to October 3, featuring brands and designers such as Alexander McQueen, Louis Vuitton, Givenchy, and Chanel. #Ready To Wear #Avant Garde