'Fortnite:' A group of friends sneak into Agent #3678's tent, asked him about season 5
A YouTuber, alongside his buddies, recently went inside Agent #3678's tent to see what stuff they might uncover in connection to season 5.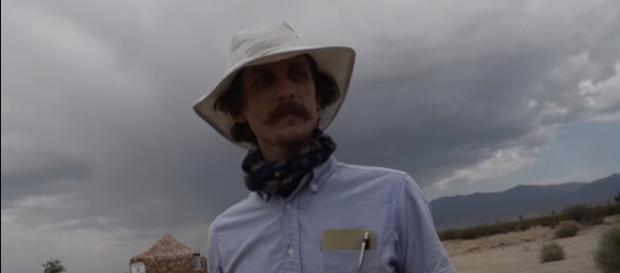 A lot of weird stuff has been going in "Fortnite's" battle royale mode as famous landmarks across the map have been disappearing ever since the massive rocket was launched. In line with this, the famous Durrr Burger mascot, in the game, appeared in a desert somewhere in California and was being examined by a shady fellow known as Agent #3678. Photos of both the site and the man have been making rounds online lately, not to mention that there are even videos of fans asking the so-called agent about the game's upcoming season 5.
YouTuber and "Fortnite" player – Joshua Alfaro (YT: Josh A), together with some friends, recently snuck into the Durrr Burger site as they examined the stuff that was scattered around there, including Agent #3678's tent. The group checked it out hoping that they might encounter something interesting that is related to the game's upcoming season.
Inside the agent's tent
According to the video, they came out with a couple of messages stating that the site is unstable and warning them of some "possible effects." The other message tells them that they're in range of the "anomaly" if they are able to read the sign.
The clip then jumped to the part where they went inside the agent's tent. There they saw several books scattered on the table and most of them talk about UFOs. Metallic and carton boxes were also spotted alongside some paper bags that read "evidence."
Josh went to the site again the following day where they saw Agent #3678 taking some measurements of the Durrr Burger anomaly. It can also be seen in the video that they asked the agent what happened to both of the game's tomato head and motel sign.
The shady agent replied that he doesn't know what they were referring to. When asked about "Fortnite's" Season 5, it looks like the agent doesn't know anything about that either.
Had to see it for myself, what's your plan @FortniteGame pic.twitter.com/VT26W57xob

— Dillonworks📸 (@Dillon_RT) July 7, 2018
An extended version of the Durrr Burger clip
Another YouTuber and a friend of Josh – TmarTn2 has a longer version of the clip. The video showed Agent #3678 interacting with curious fans of the game and, at the same time, handing out calling cards bearing that mysterious phone number (712) 380-4091.
There's even a part in the video where someone called the number and had the agent listen to it. The man then commented that the sound was just music before walking away from the crowd. However, this was not the case for the fan, as he claimed that he cleared out the noise and revealed a message saying: "three Pacific, six eastern, seventh month, eighth day, be sure to be in-game to see who comes to play."
#fortnite I've been seeing some pictures of a phone number handed out by people at the Durrr Burger in California. Here's what you hear when you call them. pic.twitter.com/XVO8oLVLoQ

— Fortnite Leakage (@FNLeak) July 7, 2018
This news article has been verified through:
https://www.youtube.com/watch?v=xtpEJbA8tg0
https://twitter.com/carsonkurland/status/1015447110995476480?ref_src=twsrc%5Etfw%7Ctwcamp%5Etweetembed%7Ctwterm%5E1015447110995476480&ref_url=https%3A%2F%2Fus.blastingnews.com%2Fgaming%2F2018%2F07%2Ffortnite-vertex-outfit-variant-leaked-fans-trying-to-decrypt-strange-telephone-noise-002650585.html