Chris Hemsworth completely DESTROYS 'Overwatch' voice actor in arm wrestle!
'Overwatch' voice actors challenge Thor in arm wrestle and were quick to regret their decision..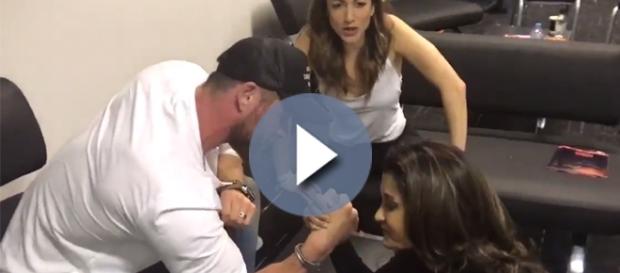 "Overwatch" voice actors recently met with a Hollywood actor #Chris Hemsworth. Hemsworth is best known for playing Thor in Marvel movies and that role has brought him a lot of fame and popularity. It turns out that these actors had a great time and there was even some #arm wrestling done.
Anjali Bhimani and Carolina Ravassa recently made an appearance at Supanova Comic Con in Sydney, Australia. Anjali gave her voice to Symmetra while Caroline was a #Voice Actor for one of the newer characters in the game, Sombra. While in Sydney, two of them met the famous Australian actor and the chaos between Anjali and Hemsworth ensued!
Arm wrestling: Bhimani vs. Hemsworth
Carolina Ravassa published a hilarious video on her Twitter page and "Overwatch" fans loved it! In the video, Anjali is arm wrestling Chris Hemsworth as two of them fought for "Sombra's affection and her 'royal boop.'" In an unsurprising turn of events, Hemsworth won the arm wrestle, but the Symmetra voice actor wanted another round, shouting "Best two of three!"
As promised- #symmetra arm wrestles #thor for #sombra's affection and a #RoyalBoop ... @sweeetanj gracias @chrishemsworth @SupanovaExpo pic.twitter.com/1nhxHXQDU3

— Carolina Ravassa (@carolinaravassa) June 18, 2017
Unfortunately for her, the Australian actor was victorious once again, and he was rewarded with Sombra's boop! At the end, Chris Hemsworth received his reward, while Anjali was defeated on the floor.
'Overwatch' fans and players love the video
It seems that Sombra and Symmetra voice actresses are having a lot of fun in Sydney and they've posted a few video updates during their exciting visit of this beautiful city. The latest video they posted became has become very popular in a short period of time and "Overwatch" fans made a few hilarious drawings of what happened between Anjali, Carolina and Chris.
I guess this will be my sketch of the day lol pic.twitter.com/AMQgRhhEHi

— Gianna Rose (@GiannaTheHuman) June 19, 2017
It's no secret that Carolina has a huge crush on Chris Hemsworth. The duo is known for their hysterical videos, and in their latest video, Caroline couldn't stop going on and on about Hemsworth and the possibility of meeting him. It is clear, she is completely smitten by the Australian hunk, and we can only imagine how stoked she must be to have met her crush!
Fans enjoyed this video and it is obvious that Carolina enjoyed being in Hemsworth's presence as well!
Chris Hemsworth
Hemsworth, who was one of the headline guests at Sydney's Supanova Comic Con and Gaming Expo, spoke to his audience about how he maintains his stellar physique.
The main man of Thor spends hours exercising and eating right. He credits maintaining his fitness to "lots of work, lots of time in the gym, lots of heavy weights, lots of boxing, lots of surfing, just keeping busy, keeping moving."
I mean, did Symmetra really even stand a chance?!