Should you add edible flowers to your chocolate bark?
How edible plant ingredients can turn your snack into a piece of art for great gifts.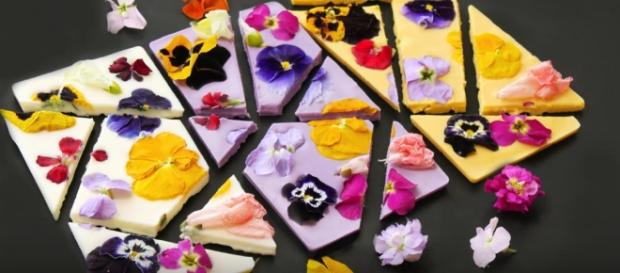 #Chocolate isn't just a sweet treat these days. People are chopping up this delicious candy, forming it into various shapes and sizes, and even creating beautiful pieces of art. In the end, this delicate treat is meant to be enjoyed, but that doesn't mean you can't have some fun with it. Of course, you may not be a pastry chef and you may not feel comfortable trying out some decorating techniques but #Edible Flowers allow you to get creative in the kitchen.
If you want to create something beautiful and possibly create some hostess gifts for your friends, consider creating a chocolate bark. While you may be thinking about chocolate and vanilla swirls or perhaps a crunch with nuts, you can use the ingredient as a blank slate.
This treat can be beautiful and serve as the perfect surprise gift.
Artistic flair
Of course, you can create a beautiful piece of chocolate art by using edible gold, little silver pearls, and sprinkles, but edible flowers add a completely new element to your treat. Edible flowers will pop when you add them to a white bark, as the colors will stand out against the white background. However, you can use bright colors against a dark chocolate as well, such as yellow or purple flowers.
If you really want your chocolate bark to pop, consider planning out the project before you start. When you know the kind of chocolate you want to use, you can easily pick the flowers you wish to use as well. For some people, it is all about the final look. Rose petals may look beautiful on white chocolate, while lavender may be stunning against a dark background.
How to use these flowers
As some flowers are edible, you will need to wash them before using them. It's always wise to do a thorough rinse, just so you don't add any unwanted ingredients into the bark. Once the chocolate is melted and has been spread out on a baking sheet, add the flowers where you please.
As explained above, using edible flowers is indeed an artistic choice, so don't just drop them into the melted chocolate. Think about where to place them and remember that the chocolate will stiffen. You cannot remove the flowers once you have placed them, as they may be covered in chocolate.
Also, keep in mind that you break the bark once it is done. While you can cut it with a knife, it adds more character when you break it into pieces. In other words, don't place the flowers too close to one another.
Have you tried using edible flowers in your bark? Make sure the flowers you are using are edible before trying to create this confection. #Piece Of Art