Make your own Zuppa Toscana soup like the one served at Olive Garden
If you can't get enough of Olive Garden's Zuppa Toscana soup, learn to make your own at home.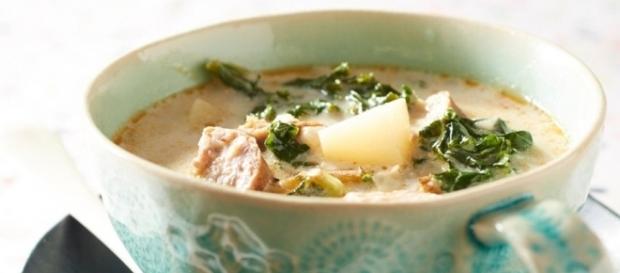 If you can't get enough of Olive Garden's #Zuppa Toscana soup, it might be a good idea to learn to prepare your own at home. The process is quick and easy and you can fix enough for several meals. There are not many ingredients to be concerned about.
Ingredients
There are not as many ingredients in this dish as in some other meals. To make 8 servings, the ingredients needed include 1 pound of #Italian sausage, 2-3 large Russet potatoes, 1 large onion, 4 garlic cloves or minced garlic, 6 bacon slices or 4 Tbsp. bacon bits, 16 oz. of chicken broth or 5 cubes of chicken bouillon, 1/4 bunch of kale, 1 quart of water, salt, black pepper and optional red pepper.
Preparation
Preparation for making the soup doesn't take long at all. Sauté the Italian sausage in a large skillet and drain the excess fat from it. Then, set it aside while you get the other ingredients ready. Sauté bacon, onions, and garlic over low-medium heat until the onions are soft. Add chicken broth or bouillon and water to a large pot and heat until it starts to boil. Add the sliced potatoes and cook until soft (about half an hour). Add the heavy cream and cook until thoroughly heated. Mix in the ground Italian sausage. Add kale during the last 2-5 minutes of cooking.
Valuable tips
Purchase ground Italian sausage instead of the links. It is more convenient and will save you time by not having to cut up the links. If you like hot and spicy foods, buy the hot Italian sausage instead of the mild.
Be careful though if you are preparing the soup for others because they might not like their food hot and spicy. The same rule goes for the optional red pepper.
If you use slices of bacon instead of bacon bits, it is better to cut the slices into bite-size pieces. Do not peel the Russet potatoes, but make sure you wash them thoroughly and cut them into individual slices. It is a good tip to cook the potatoes in the microwave before you put them in the mixture.
Wash the kale thoroughly and remove the tough ribs. Also, chop or tear the leaves. If you want the soup a little thicker, it is a clever idea to mash some of the potatoes on the side of the pot.
When the mixture is ready, sit back and enjoy your soup with bread sticks or garlic bread. Also, eat a salad and enjoy your lunch or dinner. The bonus of making your own soup is that you will have enough left over for several more meals. Like a lot of other foods, the soup tastes better days after it has been prepared because all the flavor has a chance to settle into the dish.
An individual bowl of Zuppa Toscana soup at #Olive Garden costs $6. The above recipe makes eight servings, which means it would cost $48 at the restaurant. The ingredients do not cost nearly as much when you prepare the dish at home.