Watch the video of the news article
Don't miss our Facebook page!
Like Blasting News page on Facebook: we will keep you updated with all the latest news.
The choice of buying a Purebred Dog or adopting one from a shelter seems like no choice at all. And, after seeing these 20 before and after adoption photos, you too will have no doubt about what your decision should be.
But if you are still having second thoughts, just take a look at the statistics. According to American Society for the Prevention of Cruelty to Animals (ASPCA), 670,000 dogs are euthanized in the United States every year because they never find an owner.
So, if you choose to adopt, not only will you have a loyal friend by your side, but you will be a true superhero in every sense of the word. Now, take a look at these pictures and you'll see what real happiness looks like.
1. Jackson
This dog has a unique way of showing how happy he is.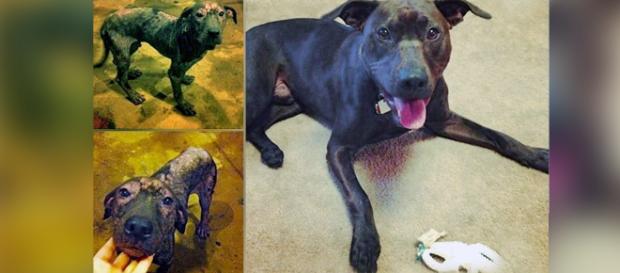 November 29, 2017
2. One more happy dog
This picture speaks a million words:
November 29, 2017
3. Mischka
If you still think dogs can't laugh, look at Mischka, and you'll definitely change your mind.
November 29, 2017
4. Pig Pen
Now that's what we call a transformation. Pig Pen is now fully recovered.
November 29, 2017
5. Kelly
Kelly really likes her new home.
November 29, 2017
6. Leo
Yes, this is actually the same dog. Not only did he find a home, but he also learned how to pose for pictures.
November 29, 2017
7. Bug
Bug with his superhero.
November 29, 2017
8. Kasper
Kasper has always been a cutie, but you can't deny the spark in his eye in the picture on the right.
November 29, 2017
9. Hank
A lot has changed in the way Hank sees the world.
November 29, 2017
10. Jake
This is what happens when you show a dog some love.
November 29, 2017
11. Pablo
This is how happy every dog should be.
November 29, 2017
12. Piper
In the picture on the right, Piper could barely look at people, now she never leaves her owner.
November 29, 2017
13. Chex
This cutie was left behind when his previous owners moved. Now he is happy once again.
November 29, 2017
14. A very lucky dog
Just look at what a few months of love can do to a dog.
November 29, 2017
15. Scarlett
Even though she was behind bars, you can see the hope in Scarlett's eyes. Now, she looks like she is living the dream.
November 29, 2017
16. A happy dog
This cutie has replaced a shelter's cage with a brand new car seat. His reaction is priceless.
November 29, 2017
17. Holland
It's not like he wasn't adorable already in the first photo, but he looks way happier now that he has found a new home.
November 29, 2017
18. Edgar
Finding a new home meant finding a new friend who was also taken from the shelter. We don't know how the owners are, but they are the real-life superheroes.
November 29, 2017
19. Teddy
This beautiful dog is a mix of Australian shepherd and golden retriever. Now, he lives the life he always deserved.
November 29, 2017
20. Spokey
Spokey finally has a reason to smile.
November 29, 2017
Click to read more
and watch the video