Duterte declares Martial Law in Mindanao after Maute terrorist attack
Local terrorists are burning buildings and homes in Marawi City after a clash with government troops.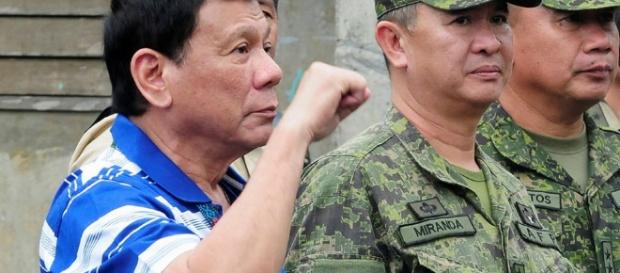 Philippine President Rodrigo Duterte declared Martial Law in Mindanao, an island in the Philippines, following the attack of a local terrorist group, Maute, in Marawi City. The president is currently in Russia but he will be cutting his visit short to return to the Philippines immediately. Presidential Spokesman Ernesto Abella said that Duterte will leave Moscow early in the morning on May 24. This announcement came an hour after Martial Law was declared.
Marawi under attack
Maute, an armed group that has pledged allegiance to the Islamic State (ISIS), attacked Marawi City, Lanao del Sur today. The terrorist group clashed with government troops, wherein one soldier was killed and eight others were injured.
Apart from the clash, the entire city is in chaos and people in the area have been sharing updates on social media.
Lieutenant Colonel Jo-Ar Herrera, spokesman for the 1st Infantry Division, said that the military was in the area to pursue "high-value targets" contained in Barangay Basak. But, sympathizers of the group carried out diversionary attacks around the city, starting three large fires.
The members of the terrorist group then occupied Amai Pakpak Medical Center which is a public hospital in the area. A fire broke out in the Marawi City Jail, Dansalan College, and Saint Mary's Church. According to eye witnesses, all detainees were freed from jail by the Maute. Residents posted on social media that some homes are also burning in the area, and that the entire city does not have electricity.
Marawi City's mayor is appealing to government troops to secure the area, saying the lack of military is bolstering the Maute's confidence. pic.twitter.com/pCD8e8TzuN

— ABS-CBN News Channel (@ANCALERTS) May 23, 2017
Earlier today, photos and videos of armed men who are members of the Maute group were shared on Facebook. Aside from that, the black ISIS flag was also spotted on a police car and on some vehicles roaming the streets of Marawi City. Reports indicate that Maute fighters are occupying the main streets of Marawi City, including Quezon Street and two bridges.
There were also unconfirmed reports that some Christian teachers were held hostage and one of them was beheaded. It is said that the dead bodies of the teachers were displayed on the highway. Some people also shared text messages from friends in Marawi saying that they are very afraid and can hear gunshots.
Martial Law declaration
Because of this situation, President Duterte declared Martial Law -- effective for 60 days. The declaration is necessary in order to suppress lawless violence, and for public safety.
The 1987 Consitution of the Philippines stipulates that the president can declare Martial Law "in case of invasion or rebellion, when the public safety requires it."
The proclamation needs to be affirmed by Congress and reviewed by the Supreme Court after 48 hours. Congress can also revoke it through a majority vote. The president is only allowed to declare Martial Law for 60 days unless Congress agrees to extend it.
Filipinos have a negative association when it comes to Martial Law because of what happened in 1972 under President Ferdinand Marcos. But, the Duterte administration made it clear that his declaration is different from that of Marcos.
don't stay mute on what's happening in the world, social media helps spreading awarness and information#PrayForMarawi pic.twitter.com/DMMnIPzsao

— emily (@yoongigod) May 23, 2017
Click to read more
and watch the video
or