Xbox latest update: Microsoft reveals Xbox One X cross-play games & supports
Mircrosoft most powerful console Xbox One X will feature mouse and keyboard supports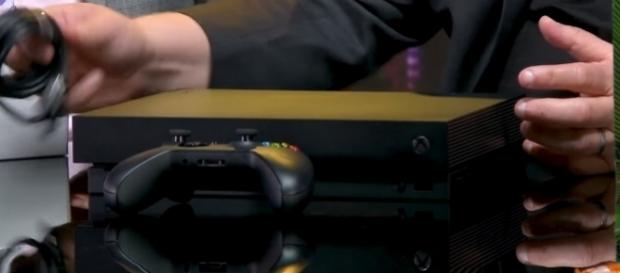 Microsoft has announced that its latest console, Xbox One X, will feature keyboard and mouse support. The company is also ceasing production of the original Xbox while increasing the release of One X. Here are the details and everything that is known so far.
Xbox One X new details
A report published in Eurogamer revealed that Larry Hryb, the director of programming for Xbox, and Mike Ybarra, the vice president, have given a general overview of the Xbox One X at the PAX West 2017 event. Ybarra claimed that the company developed the console's platform from its predecessor models.
Microsoft has explained that enabling accessories support offers many advantages to players who are engaging in a game with multiplayer modes.
Hence, the latest console will now provide a keyboard and mouse support.
Mike suggested that they will start the accessories support with the "Minecraft" first. However, fans demanded that future games should have the support for the Xbox accessories.
On the other hand, Ybarra revealed that they already built a strong relationship with Nintendo for the cross-play. He further explained that the console is already for any Cross Play titles. However, it will still depend on developers if they want their games to be part of the console.
Mike said that when it comes to the graphical display, the company has provided a flexible environment wherein developers can freely choose between resolution or frames per second.
Moreover, they can even select the 4k or fps. These prove that Microsoft offers the largest number of graphic options to meet the demands of the developers and players.
Ybarra then revealed that they are creating new forms of artificial intelligence for Cortana. The future AI will expand its number of functions and improve the user's experience.
There will be no original Xbox One anymore
According to Dailystar, Microsoft has already stopped the production of the original Xbox One. The company also announced that buyers could only purchase Xbox One S once the Xbox One X hits the market.
The original Xbox One was launched in November 2013 while the Xbox One S went on sale last year. A spokesman from Microsoft announced that the company ceased their production of the original console since they introduced the S model.
The S console comes with a smaller size compared to the first console. It also features a 4K Blu-Ray player.
The production of Xbox One X, on the other hand, has been increased as many as possible. Furthermore, the pre-orders for the upcoming console is already sold out.
Click to read more
and watch the video
or