LG V30 vs Galaxy S8 Plus: specs comparison
The price of LG V30 smartphone appears to be its edge over other high-end smartphones.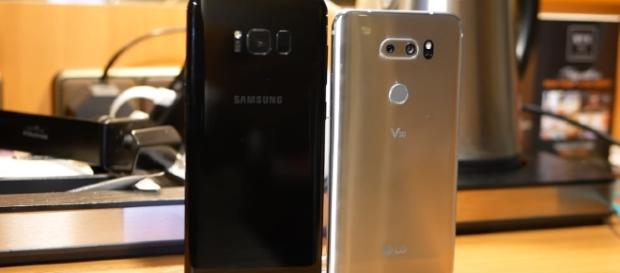 Samsung and Apple are the big guns in the handset industry. However, LG Electronics' LG V30 Android smartphone seems to indicate that the company should be considered a top of the line smartphone manufacturer.
The specs of the LG V30 smartphone have the same quality with the leading high-end mobile devices on the market. Nonetheless, LG appears to launch its latest handset to rival the Galaxy S8+.
LG's latest mobile device and Galaxy S8 Plus are both powered by the Snapdragon 835 system on chip (SoC). Regarding RAM and storage capacity, the smartphones have the same 4GB of RAM and 64GB of internal storage. The mobile devices also feature a MicroSD card slot, near-field communication (NFC) support as well as Bluetooth 5.
The screens of the Galaxy S8 Plus and LG V30 seem a bit similar to each other. The V30 sports an OLED screen with 2,880 x 1,440-pixel resolution, while the S8 Plus features 2,960 x 1,440-pixel resolution. Although the V30 smartphone has a smaller screen than S8 Plus, V30 has greater pixel per inch (PPI) than S8 Plus.
Battery comparison
Both smartphones also feature an IP68 certification for dust and water resistance, according to Digital Trends. Regarding battery, the V30 is equipped with a slightly smaller non-removable Li-Po 3,300mAh battery compared to the 3,500mAh battery of the Samsung device.
LG Electronics claimed that the architecture of its latest smartphone had been optimized for heat management as well as dispersion, giving the device a slight edge in several benchmarks.
Considering the LG V30 and Galaxy S8 Plus handsets have the same internal features, these devices are expected to handle games and apps just about the same.
Camera Specifications
Regarding their camera specs, the Samsung device features a single 12MP sensor with f/1.7 aperture, which can capture good quality images in low light situations. Meanwhile, according to E-Week, LG V30 boasts a dual camera setup. Its camera setup features a 16MP and 13MP sensors with a f/1.6 aperture.
However, the price of the LG V30 appears to be its edge over Galaxy S8 Plus or even other high-end smartphones. According to Trusted Reviews, the LG's latest mobile device will be available in the United States with a $749 price tag.
It appears that LG's latest V30 is one of the best mobile devices that the tech company has ever launched. Nevertheless, the company claimed that the audio of the smartphone is astonishing.
Click to read more
and watch the video
or