GoPro Hero 6 Black camera's image appeares online
GoPro's upcoming Hero 6 Black will offer 4K video recording at 60 frames per second.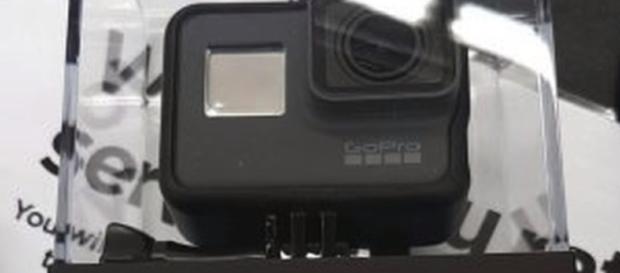 The action camera manufacturer, GoPro, is anticipated to roll out a new camera, the GoPro Hero 6 Black. However, it appears that the company's upcoming camera has already surfaced on the internet. The GoPro Hero 6 Black's image even showcased the device's specifications.
The product box image of the new action camera was posted on the web by Photo Rumors. There's a possibility that a retail employee sent the photo of the new camera to the publication site. Nonetheless, the image of the new device appears to look like its predecessor. The product box listed the specs of the GoPro Hero 6 Black, such as a 4K video recording at 60fps, 33 feet waterproof and a 12MP camera.
The notable spec bump of GoPro's new action camera is its capability to record 4K resolution video running at 60 frames per second.
Wherein, its predecessor can only record 4K videos running at 30fps.
Several GoPro camera users generally desired for a higher video frame rate, since it can capture sharper videos even in motion. The feature is significant for users who are doing extreme sports.
The action camera manufacturer rolled out two variants of its Hero 5 last year, namely the Hero 5 Black and the Hero 5 Session. According to The Verge, the firm claimed that the 2016 versions were the best-selling digital camera in the United States.
The company also launched its camera drone in 2016, dubbed the GoPro Karma. However, after the device's initial release, it was slammed with a battery problem. The firm recalled the drone back in November 2016, after the company fixed the device, it hit the shelves in February 2017.
GoPro COO Charles Prober claimed that the demand of consumers for GoPro devices is robust. Prober stated that the company is very excited about the release of its two great new devices, the GoPro Hero 6 Black camera as well as the Fusion 5.2K camera.
Price of the device
The company has yet to announce the official price of the new device. However, its price can be based on the Hero5, currently available for $400, and its rival, Yi's 4K action camera that can capture UHD resolution at 60fps, available for $340.
Release date
At the moment, the action camera manufacturer appears to have no unforeseen difficulties with its forthcoming action camera. However, if the firm intends to reach its goals this year, the new device must continue the sales momentum of its predecessor.
GoPro is expected to announce the new camera on September 28.
Click to read more
and watch the video
or