Apple Watch 3 massive leak: General design, Space Gray body, LTE support
The third-generation smartwatch has been confirmed to launch on September 12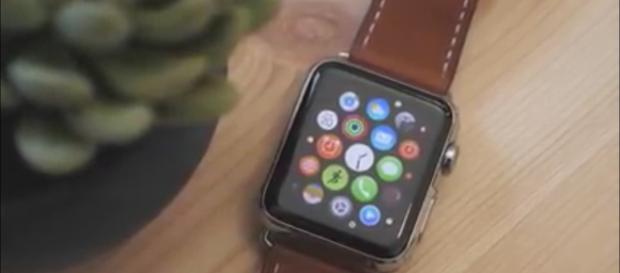 Apple announced iOS 11 at WWDC 2017 back in June. The firm at that time informed its fans that the software would be available for official use in the months to follow. Its developer previews were also made available to developers. Now, publications have begun deciphering leaked IOS 11 firmware, which has given rise to several important confirmations. According to a report by 9to5Mac, the first and most important detail is that Apple Watch 3 has been confirmed to launch alongside the iPhone 8 at their September 12 event.
Design of the device
On the basis of these rumors, it is safe to assume that there won't be any major changes in terms of design as far as Apple Watch 3 is concerned. It will pack a General design, donning a Space Gray color and matching the band.
Of course, this is only one out of the many color variants that the smart wearable will be introduced in. The leaked image also showcased the device as sporting a bright-colored red crown. This has led many users to be in a state of confusion. Apple has never launched a completely red colored Watch. They are probably launching one this time, in collaboration with AIDS (RED) foundation again.
LTE support
According to a report by MacRumors, this year's Watch would arrive with support for 4G LTE networks. If this turns out to be true, then users would be able to make and receive calls without having to depend on iPhone devices. The smartwatch would have its own dedicated SIM card. This feature is especially beneficial for fitness enthusiasts, as they wouldn't want to carry their smartphones during the time of their workout. It has also been suggested at one point, that the smart wearable would support different apps like FaceTime and WhatsApp.
Data plans
According to a report by Tech Radar, iOS 11 code indicates that the user's iPhone and the smartwatch that it is connected to will contain the same number. This could possibly involve Apple's collaboration with several carriers. The list could include anyone from AT&T to Verizon. It remains to be seen how they plan on carrying the compatibility of this feature out internationally. It appears easy for US markets to support this technology, it's the other developing regions that might face a tough time. The Watch will further come support with many different apps and features, which will enhance the overall experience for the user. Customers have to wait a bit more for the device.
Click to read more
and watch the video
or