Apple might unveil the iPhone 8, Apple Watch 3, and Apple TV on September 12
The company will also announce its latest software updates such as iOS 11 and WatchOS 4.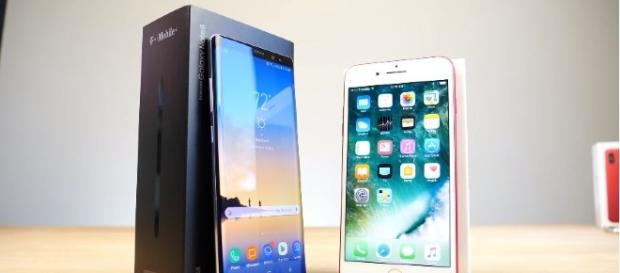 iPhone 8 is probably the most anticipated smartphone to arrive this year. Apple recently announced that it will unveil the device on September 12. The event will take place on Apple's Steve Jobs Theater. The iPhone 8 will have a major design overhaul. The device represents the tenth anniversary of the iPhone line, which is why fans are expecting a lot from it. The company could also unveil the Apple Watch 3 and Apple TV on the said event.
What to expect from the September 12 event?
The iPhone 8 is going to be the highlight of the event. Apple is rumored to ditch the iconic physical home button of the device and replace it with a thin bar that involves a set of dock icons and on-screen gesture controls.
Users can drag the thin menu bar into the middle of the screen to open the iPhone 8's multitasking panel.
Apple will also explain how the new 3D recognition sensors work. The 3D sensors might be capable of generating a "facial ID" that can be used to unlock the device or verify payments that require a biometric security. The company will also show off the dual-lens camera of the iPhone 8 that could surpass the Samsung's Galaxy Note 8.
iOS 11 features
Apple will obviously announce its new software on the event, such as iOS 11 and WatchOS 4. The new operating system will include an improved Siri smart assistant and Apple Maps. The iOS 11 will improve the iPhone's keyboard. It will also allow the users to manage the Control Center. The Apple operating system will also make iPads even better at multitasking, and notifications are going to be simplified.
WatchOS 4 features
According to a report from MacRumors, WatchOS 4 introduces three new watch faces, including a dedicated Siri watch face that displays dynamic details that are unique to each individual and is perhaps the most significant new feature in the update. The WatchOS 4 might also support various sports and fitness activities, such as baseball, badminton, step training, skating, kickboxing, jump rope, core training, barre, cross-country skiing, bowling, functional strength training, paddle sports and much more.
On the other hand, the Apple Watch 3 might be one of the highlights of the September 12 event. The device is rumored to feature a built-in LTE modem, which is capable of connecting the device the 4G LTE cellular networks.
The Apple Watch 3 might also be an independent device because it can fully function without pairing it with an iPhone.
Click to read more
and watch the video
or