Surface Phone: Microsoft's patent shows double-sided handset with metal build
Microsoft's Surface Phone would be the first smartphone that would run a fully-fledged desktop experience.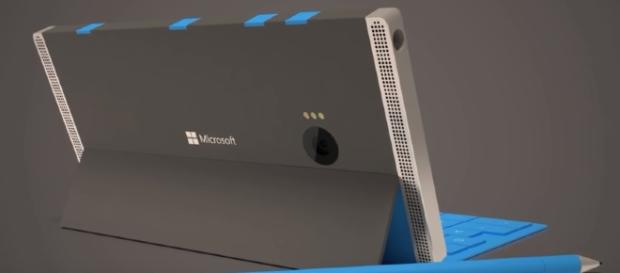 While Microsoft remains mum regarding its highly anticipated Surface Phone, the tech company's patents showed some few exciting ideas. The Redmond based tech titan claimed that if they returned to the smartphone industry, their device would be an ultimate handset that will not look like any other smartphones in the market. This is believed to be the vision of Microsoft for the upcoming Microsoft Surface Phone.
The company's recently emerged patent filing, which was filed back on February 26, appears to corroborate that vision. The thing that is being discussed in the document is a double-sided handset with a metallic cover and a metal build. The metallic made of the smartphone also works as an antenna.
Microsoft Surface Phone's design seems to prevent detuning when users touch the device's antenna.
Phone Arena reported that as detuning causes signal interference, tech firms always blamed users of incorrectly holding the handset. However, Antti Karilainen is the patent's author and an antenna, radio frequency expert. Karilainen also developed Microsoft's innovations, such as different metallic designs for smartphones, antennas for future form factors, as well as antenna sharing of different radio systems.
Nonetheless, Microsoft always stated that the tech giant's focal point is on adding features and innovations that improve the usability and performance of a mobile device in opposition to slimming down bezels as well as hardware's minor upgrades.
Specs of the device
According to Blorge, the Surface Phone is expected to be powered by Qualcomm's Snapdragon 835 system on chip (SoC), and it will come along with no less than 4GB of RAM, which is more than what average smartphones are offering at the moment. The handset is speculated to arrive a Carl Zeiss 20MP optic lens. The mobile device would feature Windows 10 and runs on Win32 applications. The 64GB of internal storage can be used to stash its user's videos, favorite music, and photos. Also, the Surface Phone is expected to be a foldable mobile device.
The best thing about Microsoft Surface Phone is that it would not come in the form of specs, but with a unique characteristic. The smartphone would arrive with ports that allow its user to connect a mouse and a keyboard.
Expected release date of the handset
With the tech company seems to have some issues with their software, the release date for its upcoming mobile device has been postponed once again. Microsoft is speculated to launch the Surface Phone in late 2018 or 2019.
Click to read more
and watch the video
or