Meet the Ionic, Fitbit's newest smartwatch
After nearly a year of straddling between a fitness tracker and a smartwatch, the company officially enters the smartwatch space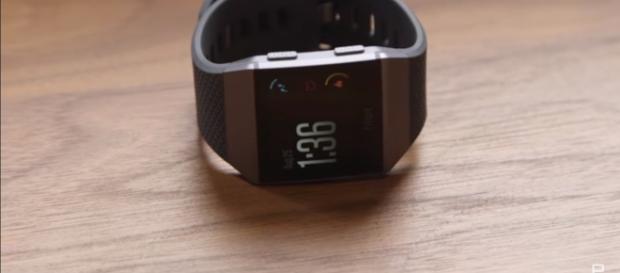 Fitbit has proven that they are capable of persevering despite delays, changes, and challenges associated with the launch of its next wearable. Although they are considered one of the biggest players in the wearables game, it took a while for the company to embrace the smartwatch trend. The Fitbit Blaze was its closest attempt, but it was not enough to compete with competitors. On Monday, the company introduced its bona fide smartwatch, the Fitbit Ionic. The latest device is the firm's most modern device to date, and, as promised, it packs a lot of new features
Introducing the Ionic
The Ionic tach was launched exactly ten years since the release of the company's first tracker.
Considering this and all the delays, the timing could not be more ideal. Further, with the recent drop in sales and a lawsuit over haptic feedback, Fitbit must take full advantage of this opportunity to get back into the dominant scene. The company may have taken its time, but it sure knows how to make an impressive product debut. Aside from featuring a new and customized operating system called FitbitOS, the new device facilitates contactless payment as well as a subscription-based workout program termed Fitbit Coach. These new services are worth exploring with the Ionic as the perfect platform.
The features
The heart rate monitor has been updated and a new sensor for SpO2 blood oxygen has been incorporated. It also has an onboard GPS and NFC. A new contactless payment service, the Fitbit Pay Service, is also coursed through NFC via Mastercard, Visa, and American Express.
It works quite simply, too. The user needs to hold down the left button until the image of the card appears. After which, tap the watch face to select the payment service. To load a card on the watch, the Fitbit Wallet app must be open on the smartphone. From there, simply input information such as card number, name, and address.
It also features a brilliant and bright display on a curved spherical glass lens. Despite the fairly large bezels, the resolution is sharp and the colors are vivid. More specifically, the brightness maxes out at 1000 nits, which will make the smartwatch easy to use even in direct sunlight.
Hardware and price
The device has a unibody module that has detachable band parts on both ends. The module was constructed using aerospace-grade aluminum with nano-molding technology. This process includes molding metal and plastic together, which creates a solid hardware that is both durable and lightweight. In addition, this technology makes the Ionic compact, with the Bluetooth, GPS antennas, and Wi-Fi all grouped together inside the device.
Compared to the Blaze, the Ionic also has a similar button style and format. The power button is on the left-side and the two buttons on the right are used to pause and save data during workouts. The sweat-proof tactile buttons will also allow for better control. The case at the back is angled and tapered for various sensors to comfortably and accurately contact the wrist. The Ionic is priced at $299.95, which is a hundred dollars more than its Blaze sibling. It comes in three color options - dark gray, light silver, and gold.
Click to read more
and watch the video
or