Marques Brownlee previews the Hydrogen One smartphone from RED
Rate this title
RED provides YouTube tech reviewer Marques Brownlee a prototype unit of the Hydrogen One smartphone for review.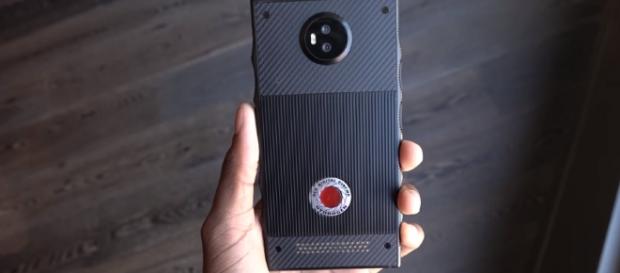 The mobile phone market is still considered one of the most lucrative markets currently out there. It is that exact reason why several electronics companies have branched out to take their slice of the pie. Just recently, gaming peripheral manufacturer Razer hinted that they might have plans to release a smartphone. Subsequently, Red surprised analysts when they teased consumers with their upcoming Hydrogen One smartphone. Fortunately, YouTube reviewer Marques Brownlee was given a prototype model to scrutinize closely.
Hydrogen One Details kept under wraps
RED has kept their new product away from the public since its announcement.
However, it has boasted about some of the device's notable features. According to the high-end camera maker, the phone will showcase a "holographic" display, which is supposedly able to output 3D images without the aid of special glasses. The Nintendo 3DS uses a parallax barrier to generate its stereoscopic effect, but it is currently unknown what kind of technology the Hydrogen One will use.
Another feature touted by RED's new handset is a "modular" accessory system. At a glance, it appears to follow Motorola's Moto Mods concept to upgrade the device's capabilities. The One is expected to support add-ons that enhance its imaging and video performance. Marques Brownlee also shares his thoughts on the upcoming attachable upgrades intended for the phone.
Design and build quality
Based on the prototype handed out to Marques Brownlee, the smartphone will come in two variants.
The entry-level model will sport an aluminum body, while the top-end model will be clad in titanium. Both models will feature Kevlar that gives it an aggressive and edgy style and evidently works well to enhance the antenna connectivity.
Looking at the top half of its front side, the Hydrogen One features an earpiece cutout made to look like one of its speaker grilles. It is situated between its front-facing camera and what looks like an LED flash module. The lower half only shows the RED logo set in the middle of two speaker grilles. The back side means business with its accessory pins set towards the bottom, while the company logo boldly sits above them. Higher up the rear panel houses the main camera module surrounded by a circular frame. Each corner also features a screw, which gives it a rugged appearance.
Another thing that sets it apart from other smartphones is the industrial-looking frame. Each side has grooves and notches that accommodate the user's fingers. The right side houses its power key, which also doubles as the fingerprint sensor.
A little lower sits its dedicated record button for taking videos. The left side holds the volume buttons only. The bottom frame holds a USB Type-C port and a 3.5mm audio jack, which will reportedly be moved to the top on the retail model, according to Marques Brownlee. We assume that RED will place the SIM tray and microSD card slot on the top along with the relocated 3.5mm audio jack later on.
Hardware and accessories
Unfortunately, there was very little information given about the Hydrogen One's specifications. What we were able to gather includes a 5.7-inch display, a vertically-mounted dual-camera system with a two-tone LED flash, and a modular accessory that adds a hefty amount of size to the smartphone. Unlike Motorola's Moto Mods, which uses magnets to secure its accessories, the One will use a snap-on system to attach its add-ons.
Price and release date
According to Marques Brownlee, RED intends to position the Hydrogen One as a premium-level device. The aluminum version will carry a price of $1,195 USD, while the pricier Titanium model costs $1,595 USD. Those who pre-order will net buyers a "special small token" that will come with their smartphones when it launches sometime in Q1 of 2018.
Click to read more
and watch the video
or