iPhone 7S might be thicker than iPhone 7; 7S the cheaper alternative to iPhone 8
iPhone 7S is expected to arrive alongside iPhone 8 at Apple's September launch event.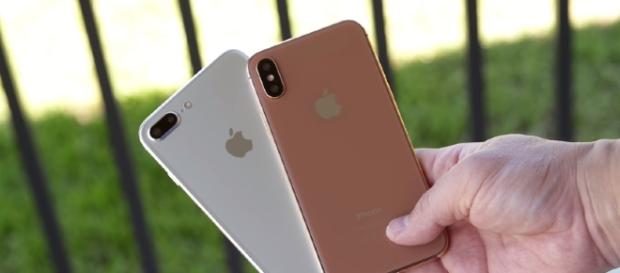 Apple is expected to announce the iPhone 8 alongside the iPhone 7s and 7S Plus next month. However, there's been very minimal coverage of information regarding Apple's iPhone 7S smartphone. Now, a new report made it known that the 7S variant would be thicker than its predecessor.
As reported by Tech Radar, the German blog site, Giga Apple, was first to spark the smartphone's rumor. The German media outlet claimed to have a conversation with a case maker who has sources within Foxconn. The iPhone 7S will be at least 0.1mm thicker in comparison to the original model. The publication site even provided a photo to showcase the upcoming Apple smartphone's exact dimensions.
CNET pointed out that although the difference between the devices is tiny, the new handset can gain extra girth if the Cupertino based tech company utilizes a glass backing for the smartphone. The tech giant making one of its new products thinner than its predecessor might seem a bit sketchy. Nonetheless, the tech titan has certainly done it before.
9To5 Mac reported that back in 2015, the tech company made the iPhone 6s thicker than its predecessor by 0.2mm. The move of the tech titan is to pave the way for the pressure-sensitive 3D Touch display. But, iPhone 7S' dimension is due to the materials being used in the handset.
The iPhone 7s might not arrive with the same specs and features as the flagship variant, but the smartphone should still suit the needs of several smartphone enthusiasts.
The device is expected to arrive with a camera upgrade, large high-resolution display and the same processor as Apple's flagship variant. Although iPhone 8 [VIDEO] could have the smartphone fans' attention, some Apple fans are still interested in the 7S model. The price points of the mobile devices probably have something to do with that.
Specs of the handset
Suggested specs of the 7S model include a built-in 3D camera, new 10nm processor, and an OLED display. The smartphone is expected to come along with a 5.5-inch display with 1080 x 1920 pixel resolution. Tech fans are expecting the device to boast a Quad-core 2.34 GHz CPU and a PowerVR Series7XT Plus GPU.
Color options
The handset is anticipated to be equipped with a dual camera setup, a front-mounted fingerprint sensor, Non-removable Li-Ion 2900 mAh battery, USB reversible connector, Bluetooth 4.2 and A-GPS. The device will be available in different color options - Red, Black, Silver, Jet Black, Gold, and Rose Gold.
Click to read more
and watch the video
or