Google Pixel 2 and Pixel XL 2 design leaked ahead of scheduled release
Rate this title
It looks like the design of the next generation Pixel phones may have leaked months before its official release date.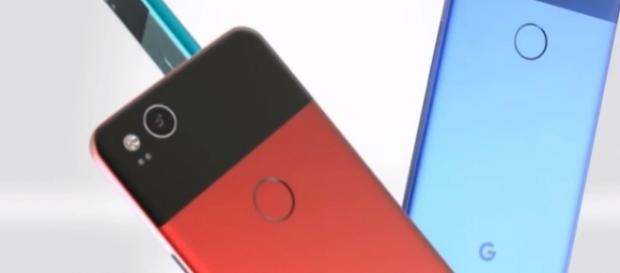 While they are not expected to sweep smartphone enthusiasts off their feet like Apple's 10th anniversary iPhone or Samsung's upcoming Galaxy Note 8, Google Pixel 2 and Pixel 2 XL is probably the most anticipated smartphones among die-hard Android fans.
Latest leaks and reports
Details about Google's upcoming handsets have been hard to come by with the handset maker refraining from divulging any sort of details. But much to the delight of those who have restlessly been waiting to catch a glimpse of the next Pixel devices, the design of Google Pixel 2 and Pixel XL 2 has surfaced online in the form of an Amazon listing.
Apparently, the upcoming smartphones decided to make an appearance online ahead of its scheduled launch.
The devices have been spotted in multiple product listings on the popular electronic commerce company's website. Several third-party case makers have posted pictures of products designed exclusively for the impending Pixel range that seems to comprise the device's hardware. However, this is not unusual.
More often than not case manufacturers are able to acquire the designs of looming smartphones before anyone else. It can be recalled that the Galaxy Note 5 was leaked online via multiple third party cases on Amazon months before its official launch by Samsung.
What to expect?
Interestingly, the search giant has neither confirmed nor denied these speculations surrounding the Pixel 2 and Pixel XL 2's online appearance via Amazon product listings. In other words, fans should take this shred of information with a huge grain of salt until Google rubber stamps the report.
However, Express' Aaron Brown claims that the renders seem to align with a few speculations about the new Pixel devices that have been making rounds on the Internet for some time now. Brown also points to a previous report that indicated Google will not oust the industrial design that they introduced in the original iteration.
Google is expected to drastically slice off the bezels surrounding the display as compared to last year. With an extremely strong track record with upcoming Pixel and Nexus hardware, Android Police believes the Pixel 2 XL will sport a relatively taller OLED display at 6-inches. There's also hearsay that it will boast 2:1 aspect ratio just like the LG G6.
Other features
Google is highly unlikely to follow in the footsteps of Samsung in terms of using a curved display in its next smartphone. On the contrary, the Pixel 2 will reportedly employ curved glass around the flat OLED display in order to complement the chassis' edge.
There's word floating that Google has roped in LG to make their next Pixel devices.
For those unaware, last year's Pixel devices were built by HTC.
Both Pixel and Pixel XL are expected to feature squeezable sides to assist specific functions. HTC introduced this feature in its latest flagship smartphone, HTC U11, earlier this year. Moreover, Google doesn't seem to have deviated from using the colored glass window on the back of the device.
Last month, Android Police shared more details about the new Pixel and Pixel XL by posting a render of the devices. Noticeably, the circular fingerprint sensor will now be a part of the aluminum frame and not the glass. The rear-mounted camera lens seems to be larger than its precursor. This coincides with earlier reports that indicated Google will oust the dual camera setup in favor of a single lens.
Another report from 9to5Google suggests the Pixel 2 and Pixel XL 2 will get rid of the standard 3.5mm headphone jack and replace it with stereo speakers. The next Pixel-branded smartphones will come bearing IP68 water resistance, which was not included in the first Pixel.
Click to read more
and watch the video
or