Apple to launch two iPhone 9 models with massive displays next year
According to the latest feature, one will feature a 5.85-inch display, while the other one will come with a 6.46-inch display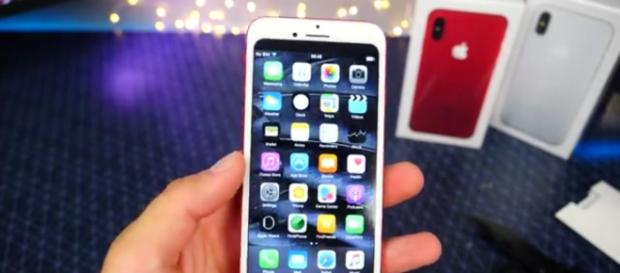 Apple is preparing for next year's iPhone 9 launch already. The latest rumor claims that the firm is going to introduce not one, but two iPhone 9 models next year. These will apparently come with gigantic display options, complemented by thinner bezels. One model will sport a 5.85-inch display, while the other one will come with a 6.46-inch screen, according to a report by Tech Radar.
This latest information emerges from a South Korea-based website, ETNews. The publication cites unidentified industry sources while suggesting that Apple along with Samsung, are working towards the development of next-gen OLED displays. The chances are that the firm's plans could change, but for now, they plan on introducing these displays in 2018 models.
iPhone 9 rumored specs
The iPhone 9 is expected to pack a 6.5-inch display, which is way larger than the Samsung Galaxy Note 8 (which sports a 6.3-inch display), a report by Mac Rumors reads. Since the devices will pack lesser bezels, their physical length is not expected to increase exponentially. Another report by Phone Arena states that Apple has apparently already begun work on planning, funding and facilitating investment in this project. The firm wants to ensure that they don't experience any supply issues next year. Samsung is currently the largest OLED display supplier for smartphones.Therefore, it only makes sense for Apple to approach them for this project. As pointed by Tech Radar, one of the main reasons why Apple has decided to make the shift to larger screens is because of the consumer preference.
Over time, the company has noted that most users prefer larger screens with full-screen or bezel-less screen displays. The latest leak comes across as authentic especially because this isn't the first time that Apple has been rumored to planning this. In May this year, South Korean publication The Bell published a similar report. The Tim Cook-led firm has already given an order for roughly 170 million OLED displays.
The two versions of iPhone 9
Apple originally planned on launching a 5.28-inch iPhone 9 along with an iPhone 9 Plus with a massive display. But bezel-less designs have become mainstream, and the firm seems to have given into this norm. The company will possibly be experimenting with device prototypes at first.
Thus, it is safe to expect additional leaks, revealing the possible iPhone 9 design. Apple is also planning on integrating a larger display with its smartphone next year.
Click to read more
and watch the video
or