Apple is secretly working on standalone OLED TV, new image leaked
Apple might be working on a stand alone OLED TV as the company is now focusing on video products.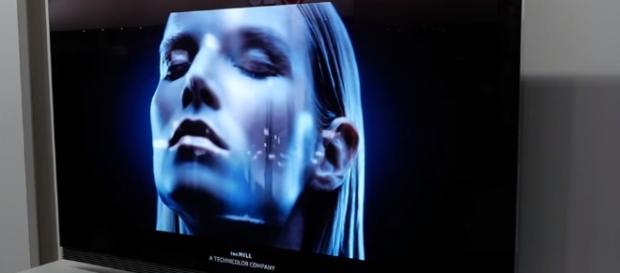 A leak on the Chinese Social Network Weibo revealed an actual Apple television unit. The image fueled up the rumors about Apple Oled Tv that have been circulating the internet for months. Here are the details and everything that is known so far.
Is Apple working on the OLED television?
TNW' reporter mentioned on their website that Apple canceled the TV panel platform plans way back in 2014. However, the latest leak image suggested that the company did not throw the idea completely.
The leaked image shows that a silver aluminum shell is covering a television unit. It is something new as the frame of the television is also remarkably thin.
The frame size serves as the evidence that the TV will be purely based on OLED. This is the feature that allows the manufacturers to reduce the thickness size of the monitor.
The blurry image further revealed that the Apple product will feature the company's prominent logo at the back of the monitor. According to TNW, the OLED TV has the screen size of approximately 60 inches. Moreover, it also appears to be in a certified lab in China.
Apple is planning to invest in Original TV Shows and Films
According to Bloomberg, Apple intends to spend $1 billion on original shows and planning to compete with other company like Netflix and Amazon. The company also hired a new Los Angeles-based organization to help them produce a new television and film shows for future video streaming products and Apple Music.
Furthermore, the company has accelerated its vision into a video service over the past years as they have the goal to double their profits by 2020. The budget of $1 billion, however, is significantly less than the other companies as Netflix claimed that they spend $6 billion on programming this year, while Amazon's expenses reach around $4.5 billion.
No Cellular Call support in Apple Watch Series3
Apple will also release a new Apple Watch alongside new iPhones in September. It will offer remarkable features such as Skype and Face Time.
There are also numerous rumors that claimed that the Apple Watch will feature an LTE chip. Ming-Chi Kuo, KGI securities analyst, predicted that the device will be equipped with LTE. He further explained that the Apple Watch would not support traditional cellular voice calls. Hence, the users cannot take advantage of making calls.
Ming-Chi Kuo did not rule out the possibility of the feature to come by. He added that the feature might appear in the future in the form of a software update. Kuo believes that the future Apple Watch will rely on eSIM technology to facilitate cellular calls. With this, it will make negotiations with phone carrier much easier.
Click to read more
and watch the video
or