Microsoft Surface Phone's image emerges on Azure's social media account
One of the selling points of the Surface Phone is its huge battery life.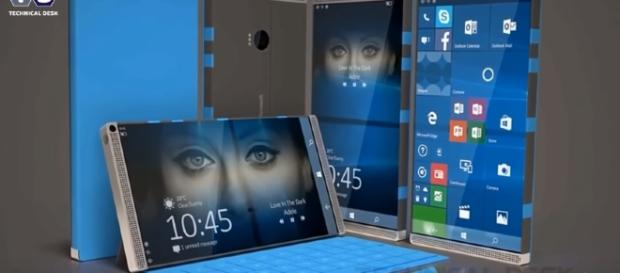 Shrewd Twitter observers noticed a tweet from Microsoft's Azure account that showed a handset that does not resemble anything currently in the market. The image in the Twitter post could be the first look at the highly anticipated Surface Phone.
Leaked image
As reported by ONMSFT, the handset seems to have a foldable screen, which could link to the tech company's different patents for a handset with a foldable screen. Also, the mobile device appears to have no bezels around the screen's edges.
However, if the image in the Twitter post is the long-rumored Surface Phone, the device could be something quite unlike anything tech fans have seen before.
The handset appears to have two folded side-mounted flaps. In spite of that, Slash Gear reported that it's possible that the tech company didn't accidentally leak the photo of the upcoming smartphone. It's possible that the tech giant intentionally created a Photoshopped image of the handset for fun.
Hey #Devs! Learn how to develop & deploy Node.js web #apps in #Azure with this live virtual class: https://t.co/12TnoS1dgA pic.twitter.com/H1hIMlNWrM

— Microsoft Azure (@Azure) July 18, 2017
Nevertheless, the popular Microsoft fanatic Brad Sams made it known that two independent sources confirmed the company's upcoming smartphone is already being tested with its specs and features. The sources also claimed that the Microsoft Surface Phone will run under C-Shell.
Specs and feature of the device
The handset is anticipated to be packed with Qualcomm's Snapdragon 835 processor. The mobile device is expected to run under Windows 10 on ARM64. Users will definitely have a full desktop experience. Also, the handset will have a 40 percent lower power consumption than other mobile devices.
Microsoft's forthcoming mobile device will be available in three different variants - all models will feature a 5.7-inch display. The first model will arrive with a 3GB of RAM with a 32GB of internal storage.
The second variant will be available with a 6GB RAM and 128GB internal storage, while the third model will boast an 8GB of RAM and a 500GB of internal storage. As for a release date, the Redmond, Washington based tech titan has not confirmed it yet. But, as the company has filled their 2017 calendar with several events, the Surface Phone might be unveiled anytime this year.
That being said, the tech company hasn't pitched in anything significant in the smartphone market. However, Microsoft has become quite the success when it comes to tablets, watches as well as laptops.
The tech giant is yet to make a breakthrough with the much-awaited Surface Phone.
Click to read more
You will watch a video to read the news
or