iOS 10.3.3 update: Latest release still comes with bugs, iOS 10.3.4 needed
Alleged final release before iOS 11 may leave old iPhone and iPad owners with problems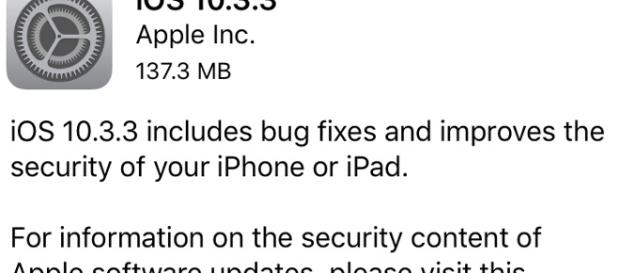 Apple has started rolling out iOS 10.3.3, believed to be the final version for the buggy iOS 10 series. The next update is anticipated to be iOS 11, though the recent OS release is far from perfect.
The Cupertino company may have exhausted all efforts to make iOS 10.3.3 as perfect as possible though it doesn't seem to appear that way. Some bugs persist connected to Safari and other Apple device features like the Game Centre, Apple Music and app updates among others.
Is it really the final iOS 10 update?
Seeing that there are still bugs present, it may be hard for anyone to comprehend why Apple would leave iPhone and iPad owners hanging.
There is no credible word that an iOS 10.3.4 will come out though anything can happen in the coming months.
With most set on the next version, there is still time for one to be released. The Cupertino company has yet to announce the official release date of the next mobile OS. Most believe that it will likely be out by September, debuting alongside the iPhone 7s/ 7s Plus and (hopefully) the much-awaited redesigned iPhone 8.
For avid Apple device owners, releasing an update with bugs in tow may come as a surprise. A possible reason is that engineers have fallen short of resolving the iOS 10 bugs or purposely leaving them to force folks to update their mobile operating system.
iOS 11 not made for all
Most are aware how Apple constantly cuts support for their iOS, ideally one version behind the latest one.
Once the next operating system comes out, it is likely that iOS 10.3.2 will be getting the pink slip. If so, this means that the recently released mobile OS will be the base operating system for iPhone or iPad owners who may have older or passé models. So what happens once when the more advanced operating system comes out?
The performance will be one issue, a reason why folks with older iPhones or iPads may be left on the earlier OS versions together with the bugs that most are experiencing right now. Does this indicate that iOS 11 will be bug-free?
It will be too early to tell but expecting the next iOS to be perfect may be foolish. The problems may not come out initially but Apple has had its share of problems coming out afterward. The good news is that only people with newer models (likely iPhone 7 and up) will have to deal with it. Hence, a smooth working mobile phone does not hold promise for now.
At any rate, it may boil down to a choice – a newer phone with iOS 11 or an older device with the recent OS version release. With plenty of bugs still around, most are hoping for one last update (iOS 10.3.4) to come out.
Click to read more
and watch the video
or