Dwayne Johnson co-stars with Siri in 'movie partnership' with Apple
Rate this title
Near-4-minute commercial sees the actor maximize his activities schedule with help from Siri assistant.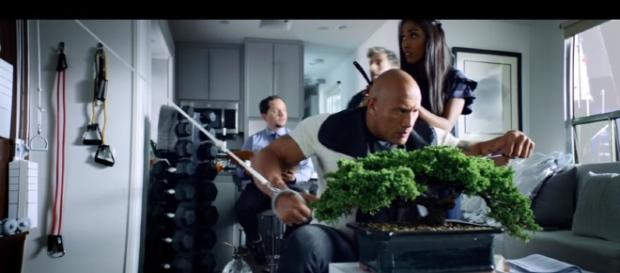 Dwayne Johnson, professional wrestler-turned-actor, is on something of a roll these days. He has been in some big-budget movies this year (some successful, others not so much), from "Fate of the Furious" to the "Baywatch" film remake. Now, with another effects-heavy feature coming soon in "Jumanji: Welcome to the Jungle" Johnson suddenly dropped a bombshell announcement. He has actually found time to team up with none other than Apple for another "movie" with his co-star being none other than the tech pioneer's pioneering voice assistant Siri. As it turns out it was actually more of a log commercial with movie-level production values but really, who cares.
"The Rock x Siri Dominate the Day" is an absolute riot.
Never too busy
The theme of the movie-ad "The Rock x Siri Dominate the Day" is sort of fitting for how Dwayne Johnson has managed to get so many things done in showbiz lately. The selling point here is that he is able to do all of it with the help of Apple's voice assistant Siri, which in the ad, is installed on the actor's iPhone 7. The storyline of the commercial starts with Johnson taking action to disprove an entertainment reporter's assessment that he is too swamped with work to do more, and he escalates the idea to ludicrous levels.
We see Johnson on the set of a sci-fi alien invasion flick, relaxing between takes by simultaneously lifting weights, trimming a bonsai and getting his head shaved. When a news report states the opinion of "experts" that the actor can't squeeze in more activities onto his schedule of projects, Johnson takes his iPhone 7 and gets Siri to plot out a schedule of more stuff to do before he returns to the set.
Siri gets him a Lyft ride to LAX; he switches with the driver and drives through a shortcut onto the airport runway. Then he commandeers a domestic flight to get to Rome. And that is only the beginning.
Brand new partnership
As the commercial goes on, Dwayne Johnson – with Siri offering tips when prompted – retouches a Sistine Chapel painting, promotes his fashion line in Japan, cooks in France, and takes a selfie while space-walking from the International Space Station. He makes it back to the film studio by riding a re-entry capsule right down to it. All in all, not bad for a surprise that was announced by the actor just over the weekend on Twitter.
Teamed w/ @Apple to make the biggest, coolest, sexiest, funnest (is that a word?) movie ever. Drops TOMORROW!#ROCKxSIRI #DominateYourDay✊🏾 pic.twitter.com/STwlCPsVUh

— Dwayne Johnson (@TheRock) July 23, 2017
Apple could certainly do with more exposure for Siri, the better to head off any interest building up in Samsung's challenger, the Bixby assistant. Teaming up with a star like Johnson may be just the ticket to once again have customers going Apple's way after seeing Siri help out all through the ad.
Click to read more
and watch the video
or