AMD Radeon RX Vega is here: Here's what it packs
AMD has officially introduced its Radeon RX Vega, a direct competition to NVIDIA's GeForce GTX 1080.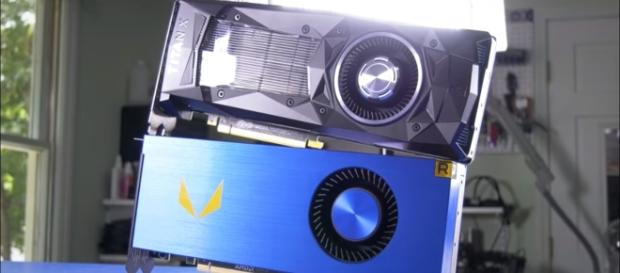 AMD has long been rumored to be working on its latest GPU for the gaming market, namely Radeon RX Vega. The company has finally kicked off the procedure at the recently-concluded Budapest event. The Budapest event is a part of the three-stop event that AMD has organized wherein the company wants to showcase its latest innovation. The first one took place in Budapest, Hungary. The event was followed up by another showcasing by AMD at the PDXLAN event in Portland, Oregan.
The third and the last event will be taking place at SIGGRAPH, 2017 in Los Angeles, California on July 30th, wherein the firm will be seen making its official debut of their latest innovation, Radeon RX Vega.
What happened in Budapest?
As mentioned previously, the first event took place in Budapest. The event witnessed the attendance of a lot of AMD enthusiasts, all ready to get their hands on the latest Vega-based lineup of GPU cards. The company had organized a special session wherein two systems were put to test in front of the audience. The first system was powered by AMD's Radeon RX Vega, followed by the other system which was powered by NVIDIA's Geforce Gtx 1080 graphics card. Since it was a blind-test, the viewers didn't know which system came equipped with what processor. Many things were quite similar between the two. For instance, both the systems were featuring the same Ryzen processor for CPU. Apart from that, both the systems came featuring an almost-identical display size as well.
Testing on 'Battlefield 1'
The gamers were allowed to play the game, "Battlefield 1," on the system and were given the freedom to judge for themselves whether the gaming experience was actually worth it. The one stark difference between the two systems was that one of them ran on the FreeSync display technology whereas the other one ran on the G-Sync display technology. The gamers also received the opportunity to play 'Sniper Elite 4.' Both are notable action-packed games and all the relevant factors required to judge the processor, were easily understandable. The audio-experience on both the systems was reportedly impeccable as well.
AMD representatives reportedly said that the Radeon RX Vega aimed towards professionals is already out and the one designed for the gaming community will be out soon. They also indicated that the price of the latter will be much cheaper than what NVIDIA has to offer. Stay tuned for more updates.
Click to read more
and watch the video
or