Samsung Gear S4 could be powered by a smartphone case
Latest patent filing reveals the company's recent plan for its next wearable, Samsung Gear S4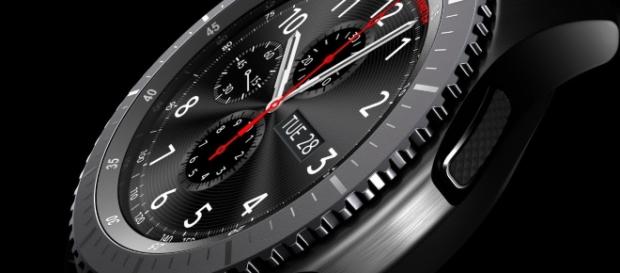 Samsung Gear S4 could be powered wirelessly by a smartphone case. While many believe that Apple dominates the smartwatch market, the South Korean tech titan is allegedly developing another revolutionary idea in the world of wearable technology. It can be recalled that the company introduced sleek and sturdy smartwatches with an impressive operating system through its previous installments, the Gear S2 and S3. Since the company's release of their wearables in Christmas, fans are waiting for the next iteration, which many believed would be another interesting smartwatch.
Latest patent filing
On June 20, a patent was filed with the United States Patent and Trademark office that reveals that the Samsung Gear S4 could be charged by resting on top of a smartphone case.
It means that the casing would utilize a USB type C port to extract power from the phone, which in turn would supply it to the wearable through a concealed coil. This will take effect when the smartwatch touches the conductive plate on the casing.
While such process is very impressive, it is worth noting that the idea might not actually be applied in reality. In the past, there were several ideas submitted for patent purposes only and were not actually seen in the real world. It can be recalled that the South Korean tech giant once filed for a patent of a smartwatch described as a cuff with a flexible full-display that becomes a 2-in-1 smartphone/watch device. Aside from that, there was also a patent that wanted to create a virtual skin-based display by using the back of the hand or the contour of the palm.
Anticipated specs and features
Although the latest patent filing is very feasible, there is only one thing that would seem unlikely to be found in the next Samsung wearable. That is the Android Wear operating system of Google. The device was one of the first two to run on the operating system. However, the South Korean tech titan never used it on its succeeding iterations.
The internal platform of the South Korean wearables is utilizing the equally powerful Tizen operating system. The last three wearables have been stable and dependable using the said OS. It appears that despite the lack of app availability as compared to other Android Wear, the next iteration would most likely use the same operating system as its predecessors.
We will give you more updates about the Samsung Gear S4 as soon as information becomes available.
Click to read more
and watch the video
or