OnePlus 5's retail packaging leaks ahead of official launch
Protective case covers and the retail packaging of the OnePlus 5 have leaked prior to the handset's unveiling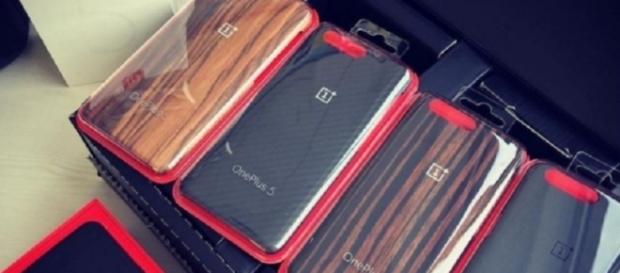 A day prior to the launch of Oneplus 5, slated for June 20, the smartphone's protective cases, retail packaging, along with photos have leaked on Twitter. The China-based OEM has been unable to keep the details of its OnePlus 5 under wraps and almost all the specs and features of the smartphone were leaked by tipsters and leaksters.
Protective cases and retail packaging leak
The leaked image of the four protective cases of the OnePlus 5 was shared online on Twitter. The image revealed two wood and bamboo-styled protective cases for the impending handset. Covers with similar styling were also released in 2016 during the launch of OnePlus 3 and OnePlus 3T.
Apart from the wood and grain variants, we can also see a protective casing made out of carbon fiber and another case sporting a matte finish look in black.
@OnePlus_IN @oneplus @getpeid @MKBHD @OnePlus_UK @Vikas_AGL @OnePlus_Support @petelau2007 @AndroidAuth OnePlus 5 lunch tomorrow thank you 🖤 pic.twitter.com/ejGDLVK1hb

— muhammed mt (@muhammedmt786) June 19, 2017
Nearly three weeks ago, Oneplus started a competition in its home country where it asked people to vote for their favorite retail packaging. The news was shared on Weibo, along with eight retail box packaging designs for the OnePlus 5. It seems that one of the red color-based designs was chosen for the retail packaging as in the latest leaked photo, we see the smartphone packed in a red box.
OnePlus teasers prior to launch
Up until the launch of OnePlus 5, the Chinese OEM confirmed a lot of facts about its impending flagship.
One of the first specs that were made official by OnePlus was the processor of the smartphone. The company confirmed that the handset would be powered by a Qualcomm Snapdragon 835 CPU. This news was shared when it was withdrawing the OnePlus 3T.
Later, the company shared a teaser image of the OnePlus 5, publicizing about its camera capabilities. OnePlus shared two pictures placed side by side to show the device's enhanced camera capabilities in low light conditions. The company has been emphasizing the handset's camera prowess by revealing its partnership with DxO, who are the founders of camera testing benchmark DxOMark.
The OnePlus 5 will sport a dual-rear camera setup, which was suggested by numerous leaks and was confirmed by the firm through its many teasers images, videos, and finally the invite. However, many have raised eyebrows on the striking design similarity between the iPhone 7 and OnePlus 5.
Come Tuesday, June 20, consumers will finally be able to check out the handset in all its glory. Whether the smartphone will give stiff competition to flagships from Apple, Samsung, or LG remains to be seen.