Galaxy Note 8 likely to stick with Samsung's flawed design choice
Rate this title
Much to the dismay of Galaxy Note fans, it looks like Samsung will not deviate from its flawed design for the new phablet.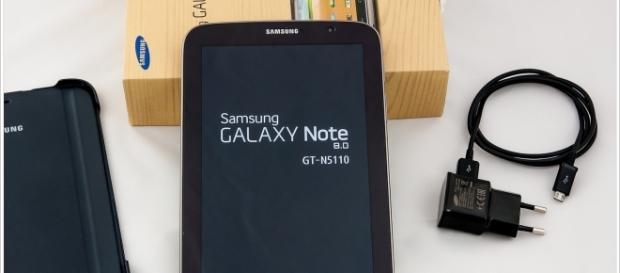 There's no dearth of details surrounding the upcoming Samsung Galaxy Note 8. Multiple sources have been hinting at a powerful flagship, but that may not be the case. If recently surfaced renders and leaks are anything to go by, Samsung is paying absolutely no attention to fault-finding feedback around the Galaxy S8 and the S8 Plus and is dashing ahead with a design choice that is not spared from flaws.
Latest leaks, rumors and more
Previous reports from Forbes suggested that Samsung will not place the fingerprint sensor underneath the screen of the hotly anticipated phablet. If this came to fruition, it would have given the South Korean handset maker a technological 'first.' But much to the chagrin of the popular smartphone maker, the part of the screen with the sensor didn't color-match with rest of the screen.
The long-rumored Galaxy Note 7 successor will not oust the wide-ranging screen; however, the requirements in the Android specifications for embedding a fingerprint scanner imply it has to be placed elsewhere. And it looks like Samsung will be putting it next to the device's rear-mounted camera.
What to expect?
As far as design mistakes in the company's latest Galaxy S8 and Galaxy S8 Plus are concerned, it is the placement of the fingerprint sensor that is an issue. Their choices are squeezing it along one of the edges, or placing it either somewhere on the rear or on the front fascia of the phablet.
With Samsung beefing up the screen real-estate on the front of its next Galaxy Note device, and probably sticking to the virtual home button as used in the Galaxy S8 family, the only place for the sensor is on the back of the handset.
Moreover, latest renders all suggest it is designed to be part of a camera bulge.
That'd put the sensor on the side of the dual camera lenses. The size of the Note 8 is likely to put a little more space between the visual sensor and the biometric, but on the downside, the size of the Note 8 will also place the sensor further away from users' finger's normal resting place.
Apparently, the company's on-screen fingerprint reader technology requires more time for development. In other words, Samsung needs to resort to a secondary option, which regrettably, could turn out to be one of the most inept aspects of the Galaxy Note 8 unit. Ideally, the upcoming Note phablet will carry forward the 'all-screen' story initiated by the Galaxy S8 family, which ousted the physical home button in favor of the extensive OLED screen.
.
Click to read more
and watch the video
or