Apple unveils its first Siri-equipped home speaker system
The HomePod is set to compete against Amazon Echo, but is first advertised as focusing on music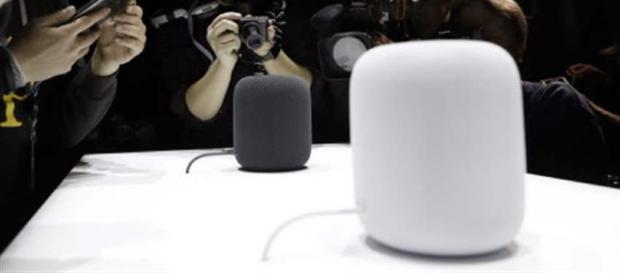 When it comes to "smart home" tech, Amazon has tried to stay at the forefront of it with their Echo home speaker. About its only active competition right now has been the Google Home, and despite the emergence of some alternatives the contest has been mostly between these two. But all of that's about to change.
Apple has been busy building up what they feel to be both a competent entry into the home speaker market and a challenger to the Echo. The tech giant intends to base it of course around their trusty intelligent personal assistant Siri. On Monday, June 5 Apple finally revealed their finished product. They call it the HomePod.
Apple's speaker
The debut of Apple's very own home speaker system was done at their annual WWDC developers' Con, held this year in San Jose. At first glance, thanks to most of its body being encased in metallic mesh, the HomePod appears to be an oversized microphone head. It comes in black or white variants, and inside is a formidable suite of microphones (6) to pick up voice commands, tweeters (7) and a woofer to sound out the device's replies, and an A8 chip right out of Apple's iPhones as the heart of the whole system.
At the top of the HomePod unit, which is about the size of a breadbox, there's a nifty light-up display that generates a waveform light show whenever it acknowledges a voice command. Sharp eyes and iPhone stalwarts would recognize the circular waveform as being the characteristic Siri presence.
And indeed, you can ask Apple's helpful little voice a lot of the usual commands you would when she was on your phone. The only thing she can't do is visual displays (i.e.,. Show web search results), and her primary functions on the HomePod for now is focused on music.
Music first
Indeed, Apple SVP for worldwide marketing Phil Schiller is describing the HomePod device as more a "home assistant," ostensibly a significant enough variation from the Amazon Echo. And it's got some fine control capabilities in the musical vein; a "spatial awareness" feature enables the HomePod to check its position about a room. Depending on when it's centrally located, or positioned next to a wall or corner, the device's speakers can adjust their sound so that the music will always sound nice.
There isn't much yet disclosed about the other things the Apple HomePod can do, save for its price of $349 and its expected release of sometime late this year. It will have to wait until then to see how this measures up to the Amazon Echo.
Click to read more
and watch the video
or