2018 Ford Mustang gets line-lock technology for easier burnouts
Anyone can now perform burnouts with the Ford Mustang thanks to line-lock technology.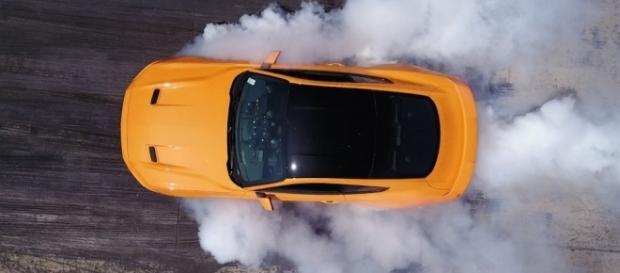 The electronic line-lock technology has only been available on the Mustang GT with its V8 engine, until now. Ford decided to make this feature a standard to all Mustang variants, starting with the 2018 Ford Mustang. This should be exciting news to would-be Mustang owners as the feature makes it easier to burn rubber even for casual drivers.
The line-lock technology, once selected, locks the front brake calipers so that the vehicle stays in place. When the driver steps on the accelerator, the rear wheel spins creating clouds of smoke.
The driver only has up to 15 seconds to perform burnouts before the system releases the front brakes.
What are burnouts good for?
As long as the driver is in an open space, performing burnouts can be quite entertaining, as long as you don't mind burning through hundred dollars' worth of tires.
This technology is ideal for people who plan to drive on a race track to set lap times. Burnouts raise the tire's temperature which maximizes its traction, making the line-lock technology much more valuable.
This cool feature will be available for both the six-speed manual transmission and the 10-speed SelectShift automatic variant. There is also an optional 12-inch display which shows a digital animation of the wheel creating digital smoke.
Other features of the 2018 Ford Mustang
Ford's latest car model gets inspiration from the Shelby GT350 with its lower front end for a sportier aesthetic look with LED headlights, updated sway bars and a new exhaust system.
The 2018 Mustang also has updated safety features with its Pre-Collision Assist and Pedestrian Detection. Drivers now have the option of saving custom drive modes, especially those with digital instrumentation where different on-screen layouts can be displayed according to each drive mode.
Mustang owners have been requesting for the MagneRide suspension feature and will now be available on the latest model. Although a popular feature, the MagneRide suspension won't be a standard on the Mustang, unlike the line-lock system.
The 2018 Ford Mustang is expected to go on sale this fall. However, pricing is yet to be announced by the car manufacturer. See the video below and watch the line-lock technology in action.
What do you think of the 2018 Ford Mustang's electronic line-lock technology? Let us know in the comment section down below and don't forget to like and share this article.
Click to read more
and watch the video
or