Microsoft Surface Pro vs. 13-inch MacBook Pro — which device is better?
Here is a side by side comparison between the Microsoft Surface Pro and the 13-inch MacBook Pro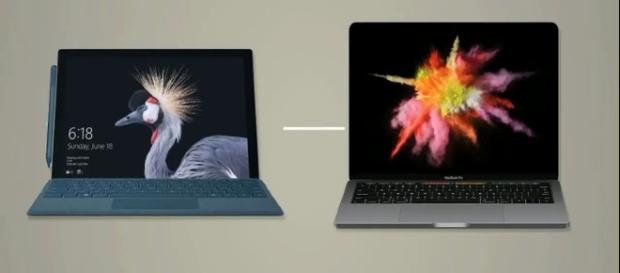 Two of the most preferred devices for laptops nowadays are the Apple 13-inch MacBook Pro and the new Microsoft Surface Pro. These mobile computing machines work well with everyday use especially for the working sector whose bread and butter most of the time depends on these machines. Comparing these devices side by side will give consumers a clear perspective on which among these two suits their lifestyle well.
Design and build
The 2-in-1 hybrid from the Redmond-based tech giant appears almost identical to its predecessors the Surface Pro4 and the Pro3. In terms of design and build, the new Surface Pro is made of Magnesium-alloy while the 13-inch MacBook Pro is enclosed in an aluminum body.
Both devices are built rock solid and are almost seamless with their glass and metal structure. Moreover, they are both sturdy looking and putting them in a bag will not give you a nervous feeling that some of the parts could be damaged.
However, according to Forbes.com, the latest offering from Microsoft has more rounded corners, has a re-engineered kickstand that is capable of 165-degree movement and is designed with a heat venting structure. The mobile computing machine from Apple has a wide and spacious trackpad and provides a tangible feel. Apple's device also accommodates the Touchbar with a keyboard that features shallow keys perfect for effortless typing.
Hardware
Both devices have outstanding resolution displays.
However, the Surface Pro boasts a superior resolution of 2736 x 1824 pixels as compared to the 13-inch MacBook Pro's 2560 x 1600 pixels. In terms of processors, they are on equal footing as both utilize Intel's 7th generation Kaby Lake CPUs. Their storage is also almost equal as they both offer 256GB, 512GB, and 1TB choices. The same goes for their memory, which features 8 GB and 16 GB of RAM and uses 1866MHz LPDDR3 memory that can be upgraded.
Camera, battery life, price, and other features
The Microsoft Surface Pro has two cameras on the back and front with 8-megapixel and 5-megapixel sensors able to record 1080p or full HD videos. The new hybrid device also boasts its dynamic ports consists of a headphone jack, Surface Connect support, a full-size USB 3.0 port, a MicroSDXC card reader, and a Mini Display Port.
The device also prides its 13.5 hours battery life, according to Trusted Reviews. As for its price, the base level costs approximately $799 while its highest configurations cost $2,699.
On the other hand, Apple 13-inch MacBook Pro has a single camera that can only record 750p or HD video, giving you a not so sharp video calling. In terms of ports, this is one of the device's downsides as it only offers a headphone jack, two Thunderbolt 3 USB-C ports and has no SD card slot. In terms of battery life, Apple's 13-inch laptop can last up to 10 hours. Its base level costs approximately $1,499 and its highest configuration cost $2,699.
Click to read more
and watch the video
or