China's electric Transit Elevated Bus project halted
After the debut of an innovative bus in China excites social media, plans for actual use are put on hold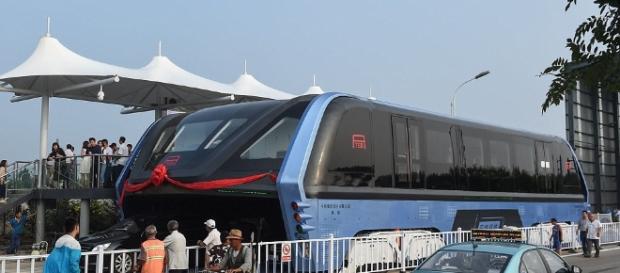 An awesome video of a giant bus going for a test drive in the north-eastern part of china in the city Qinhuangdao lit up social media in August. Recent reports say that the TEB, Transit Elevated Bus, now seems to be abandoned sitting at its station. The tracks that were placed on the roadway for the electric bus's practice trip through the Chinese city were supposed to be removed before the month of August closed out, but the tracks have created an abnormal road that is causing complaints.
Operates like a subway
A BBC article from last year informed readers that a smaller version of the other-worldly vehicle was showcased at a China-Beijing technology exhibition in May.
And a TEB Technology employee divulged that the model that rode through Qinhuangdao isn't the actual vehicle planned to be used daily, which means that a finished product was in the works. The bus appears to be an alternative to usual transportation such as subways and buses.
The 72-foot long and 25-foot wide TEB holds a maximum load of 300 passengers. Additionally, only one of the buses puts 40 buses of average size out of use. Bai Zhiming, an engineer on the TEB project, says that the cost to create the bus is much less than the cost of a subway. The head engineer on the bus project told that it also operates like a subway.
The vehicle can Travel up to 60 kilometers per hour or 37 mph. Four TEBs can be connected to each other like a train to carry travelers through China, while also letting cars pass through underneath it as it cruises.
Investors not satisfied
TEB developers arranged for the bus to be used in more cities in China. However, the TEB Technology company is in a financial struggle with the project, which is preventing them from furthering the project. A CNN article reported that the firm has let down investors after promising that it will be a very profitable venture. The development team for TEB has plans to release the final, perfected Transit Elevated Bus this year.
Tech professionals have begun to lose hope for the development of the elevated bus. If the bus project progresses, it will blow minds around the world, bringing about an even higher level of amazement. But this isn't the first time that an elevated
But this isn't the first time that an elevated bus idea has been thought of before. In 1969, two architects produced a blueprint for a special transit that they called the Landliner. Unlike the Transit Elevated Bus, the Landliner was designed for the busy streets of Washington and graced the cover of a magazine.
Click to read more
and watch the video
or