NBA Rumors: Kemba Walker to Orlando Magic trade was discussed with Charlotte Hornets
The All-Star guard was mentioned in a possible trade between the two NBA teams.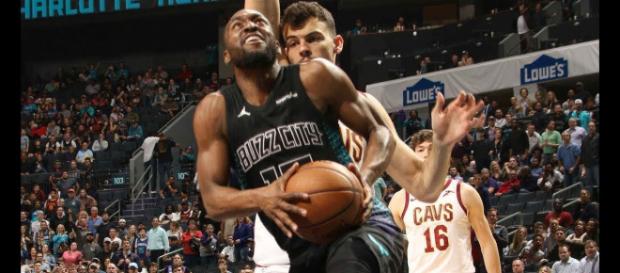 The NBA rumors have certainly heated up since the end of the season, and there are All-Star players being mentioned in possible trades almost daily. The Charlotte Hornets' Kemba Walker has been among those players mentioned. There were rumors of a possible trade with the Cleveland Cavaliers to keep LeBron James happy. James is predicted to go the Lakers if something isn't done. However, there was another trade discussed between the Hornets and the Orlando Magic involving Walker.
Walker to Orlando was discussed
The rumors of a possible trade involving Kemba Walker to the Orlando Magic were presented on Twitter by former Bleacher Report writer Mike Ortiz Jr.
of DYSTNow. Ortiz Jr. mentioned that Nikola Vukic was also considered as part of the trade talks. Additionally, the Hornets wanted to involve Nic Batum in any deal.
Sources: There have been some talks between the Magic and Hornets involving Kemba Walker and Nikola Vucevic. Hornets want to attach Nicolas Batum in any deal.

— Mike Ortiz Jr. (@OrtizDYST) June 29, 2018
As of this report, it doesn't appear trade talks have advanced too far. However, this seems to suggest the team is at least exploring making a move to get some value for Kemba Walker before he possibly walks into free agency.
As mentioned, the other teams brought up as possible destinations for Walker were the Cleveland Cavaliers, as well as the Los Angeles Lakers, but neither of those rumors has gone much farther than being speculative.
Walker could 'care less' about rumors
The Hornets' All-Star guard addressed the topic of trade rumors in a recent video that was published on the team's website. Walker said, "I hear it all the time. I hear all the rumors. But I could care less," according to the Charlotte Observer. Walker also said he's "not even thinking about it" with regards to the speculation.
In previous reports, Hornets GM Mitch Kupchak mentioned that Walker will be the team's "focal point." He's set to become a free agent after the upcoming NBA season and Kupchak said they are hoping Walker remains with the Hornets and "ends his career here" too.
Kemba brings value to the roster
Kemba Walker has now spent his entire career as a member of the Charlotte franchise. He started when he was drafted to the Charlotte Bobcats as the No. 9 pick in the 2011 NBA Draft. Since then, he's become the team's all-time leading scorer and achieved All-Star status in the past two seasons.
Many fans and analysts consider him amongst the top 10 point guards in the league.
Walker has career averages of 18.9 points, 5.4 assists, and 3.7 rebounds a game. In the past season, he scored 22.1 points per game, while also dishing out 5.6 assists per contest. In addition, he's been healthy over his past three seasons, only missing a total of six NBA regular season games.
Playoff success is lacking
The Charlotte Hornets have had just a few NBA playoff appearances, though. In 2013-14 they were swept by the Miami Heat.
In the 2015-16 postseason, they played the Heat, once again, and went a full seven games before losing 4-3. Several key members of the roster left in free agency following that season, including Jeremy Lin, who signed with the Brooklyn Nets. Charlotte didn't qualify for the playoffs in their past two seasons.
The Hornets have never quite found additional stars to help Walker go further in the postseason. That could be due to the fact that other players aren't interested in joining the Hornets' roster or playing in that city. Walker has become the heart of the team, though, showing grit and determination.
OFFICIAL: @KembaWalker is the 2017-18 NBA Sportsmanship Award Winner!

⭐️⭐️ CONGRATS KEMBA! ⭐️⭐️#BuzzCity x #NBAAwards pic.twitter.com/Py4DwxSnOW

— Charlotte Hornets (@hornets) June 26, 2018
The two-time All-Star guard clearly has plenty of value for other teams competing for championships. He also has yet to win one himself, despite having a remarkable run toward a title during his time at the University of Connecticut. It seems like Walker could find plenty of evidence around the league to motivate him to move to a new team in search of his first ring.
This news article has been verified through:
https://swarmandsting.com/2018/06/29/rumor-charlotte-hornets-discussed-kemba-walker-trade-orlando/
https://www.charlotteobserver.com/sports/nba/charlotte-hornets/article214080144.html
Click to read more
You will watch a video to read the news
or