Russell Westbrook and Thunder top Knicks 105-84
Oklahoma City's new lineup looked impressive in their opening night victory.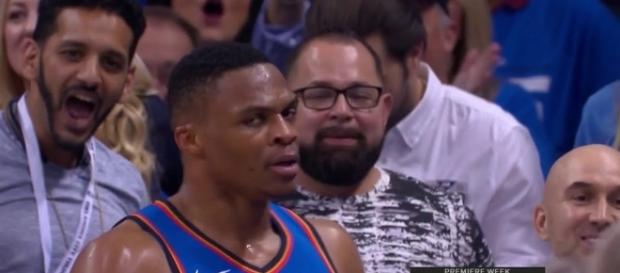 Thursday night brought three games from the NBA slate including the debut of the #Oklahoma City Thunder's "Big Three." Despite some early sloppiness, the OKC trio certainly delivered. While Kristaps Porzingis tried to singlehandedly lead his team to a win, it was all Thunder. Here's a look at the Knicks vs. Thunder game with how the OKC Thunder topped the #New York Knicks 105-84, as well as a standings update and what's next on the schedule for these teams.
NBA game recap
The OKC Thunder were able to capture a 27-24 lead after one quarter and a 53-42 lead at halftime. The Thunder kept up their scoring pace en route to a 26-17 third quarter and finished the game 26-25 in the fourth.
When all was said and done, the new-look Thunder won the game over the Knicks 105-84 in OKC.
In tonight's big debut for two new Oklahoma City Thunder stars, Paul George and Carmelo Anthony put on the early performance to lead the way in the first half. The duo finished with 49 points between them. George quietly led the way with 28 points and six rebounds, but NBA MVP Russell Westbrook [VIDEO] had 21 points, 16 assists, and 10 rebounds for his 80th triple-double in his career. Steven Adams finished with 12 points, five rebounds, five assists, and three blocks.
Leading the way for the New York Knicks was Kristaps Porzingis. The new face of the franchise had 31 points on 11-for-25 shooting to go with 12 rebounds. The problem was he was the only double-digit scorer for his team besides newcomer Enes Kanter who had just 10 points and seven rebounds.
Tim Hardaway Jr. finished with eight points on 3-for-10 shooting in the loss.
The Thunder shot 43.3 percent from the floor tonight with a 28.9 percent three-point rate. The Knicks hit their shots at a rate of 40.5 percent overall and nearly 30 percent from downtown. The two teams were dead even on the boards with 41 apiece, while New York had 25 turnovers compared to 18 for the home squad.
Standings and schedule
The New York Knicks get an 0-1 start to their season with an 0-1 road record. The team showed grit early on, but couldn't keep up with the fast-paced scoring effort of OKC's new "Big Three" combination. Still, Kristaps Porzingis looks like a potential All-Star candidate in the East now. They'll have their home opener on Saturday night at 8 p.m. Eastern Time when they host the Detroit Pistons.
The Oklahoma City Thunder are off to a good start at 1-0 this season. In their first game, they showed they've got the weapons to contend with the best in the league. Next up for the Thunder will be a Saturday night game on the road against the Utah Jazz at 9 p.m. Eastern Time. #Russell Westbrook