Detroit Pistons beat Charlotte Hornets 102-90
Charlotte Hornets begin its regular season with a loss against The Pistons.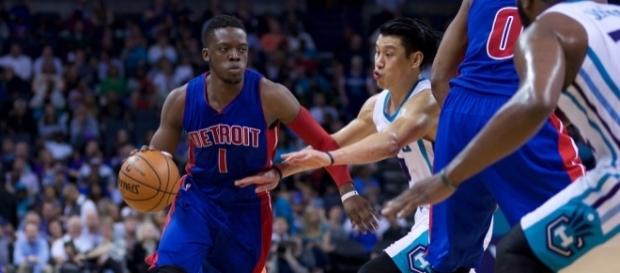 The Pistons tipped-off its #Regular Season with their first win against The Charlotte Hornets, 102-90. The game took place in Little Caesars Arena, a new facility in downtown Detroit. Eminem made a surprise appearance, grabbing the microphone to fire up the crowd just before the game started. Pistons led the game throughout, scoring 29-27 in the first quarter, 27-18 in the second quarter, 26-25 in the third quarter and 20-20 in the fourth quarter, wrapping up the game with a 12 point lead. The #Detroit Pistons performed with a total of 42.7 percent field goals with 34.6 percent 3 pt field goals and 91.7 percent free throws against Hornets, with 39.7 percent total field goals and 30.0 percent 3 point shots and 79.3 percent free throws.
Tobias Harris led the Pistons with 27 points
Tobias Harris led the victory with a score of 27 points (11/28 FG, 4/7 3Pt, and 1/1 FT) ten rebounds, three assists and three personal fouls in 34 minutes. Followed by Avery Bradley with a score of 15 points (7/10 FG, 0/0 3Pt, and 1/1 FT), two rebounds, one assist and four personal fouls in 23 minutes. Playing from the bench were Langston Galloway with 16 points (6/11 FG, 3/6 3Pt, and 1/1 FT) and four rebounds and Henry Ellenson with 13 points (5/10 FG, 2/4 3Pt, and 1/1 FT) and four rebounds. With last year's frontcourt partner Marcus Morris now playing in Boston, Harris may be in line for more shots during this season.Last year, he took 18-plus points only six times. He also grabbed double-digit rebounds just three times during last season 2016-2017.
It's tough to make any concrete claims about his performance with only one contest but Harris' usage is certainly something to keep an eye on this year.
Kemba Walker of The Hornets scored 24 points
Walker garnered 24 points (6/13 FG, 1/3 3Pt, and 11/13 FT), six rebounds, four assists and 1 personal foul in 35 minutes during 102-90 loss with Detroit Pistons. Jeremy Lamb followed with 15 points (4/10 FG, 0/3 3Pt, and 7/8 FT), four rebounds, two assists and two personal fouls and Dwight Howard knocking off 10 points (5/9 FG, 0/0 3Pt, and 0/2 FT), fifteen rebounds, one assist and two personal fouls. Wednesday was a normal game for Walker, though that is impressive in and of itself due to The Charlotte Hornet's missing two starters, Michael Kidd-Gilchrist (personal) and Nicolas Batum (elbow). The eleven free throws he made in the game are somewhat odd considering he registered just three games last season with that many made shots from the line. #Charlotte Hornets