MVP and LVP of both National League Division Series
MLB playoffs - most valuable and least valuable player of the two NLDS.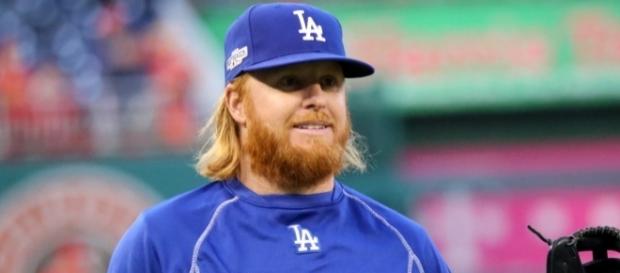 The #Los Angeles Dodgers made quick work of the Arizona Diamondbacks in their series winning in a three-game sweep. It came to a quick end on Monday with Los Angeles' 3-1 win in Game 3.
The Chicago Cubs [VIDEO] advanced to their third straight National League Championship Series [VIDEO] on Thursday with a 9-8 win over the Washington Nationals in what was a crazy Game 5.
Here are the most valuable and least valuable players from both of the #National League Division Series.
MVP - Justin Turner, Dodgers
Coming off a regular season where he finished third in the National League with a .322 batting average, Turner excelled during the three-game sweep of the Diamondbacks.
He finished the series 6-13 (.462) with a home run, five RBIs, a walk, and a stolen base. He did much of his damage in the Dodgers 9-5 win in Game 1, as he finished 3-4 with a home run and five RBIs. He wasn't shabby in the other two games either finishing 3-9 in Games 2 and 3.
LVP - Paul Goldschmidt, Diamondbacks
Goldschmidt was one of the stars in Arizona's National League Wild Card Game win over the Colorado Rockies, but other than one at-bat in the series with Los Angeles he was a complete no-show. One of the National League MVP candidates for the regular season, Goldschmidt went 1-11 in the three losses for Arizona against the Dodgers. Yes, the one hit was a home run but still, the Diamondbacks needed much more from their superstar player to have a chance in this series.
This could have gone to Kyle Hendricks, but he only went four innings in Game 5.
Jon Lester pitched well in his start and one relief appearance, but both came in Cubs losses. The Cubs batted just .180 as a team in the series so Russell is picked here for his Game 5 heroics. His double in the fifth inning off Max Scherzer drove in two runs and gave Chicago a 5-4 lead. The following inning, Russell doubled off Brandon Kintzler driving in Ben Zobrist to give the Cubs an 8-4 lead. He also had an RBI groundout in the third inning. He finished the series's 4-18 (.222) with two doubles, four RBIs, two walks, and a stolen base.
LVP - Matt Wieters, Nationals
It is hard to choose a least valuable player from the Nationals when Wieters, Jayson Werth, Trea Turner, Ryan Zimmerman, and Anthony Rendon all batted under .200. Wieters gets the nod though in a series he went 2-14 (.143) with both hits being singles. Both of his hits came in Game 5, but he also made two costly errors in the same game. Entering the fifth up 4-3, Wieters was involved in a catcher's interference and a swing-and-miss strike three that went under his glove. He then made a throwing error as he threw it into right field. When the Cubs finally made three outs, the score was now 7-4 Chicago. #League Division Series