Milwaukee Bucks beat Boston Celtics in its regular season debut 108-100
In its first game of the regular season, the Bucks held its ground against the Boston Celtics.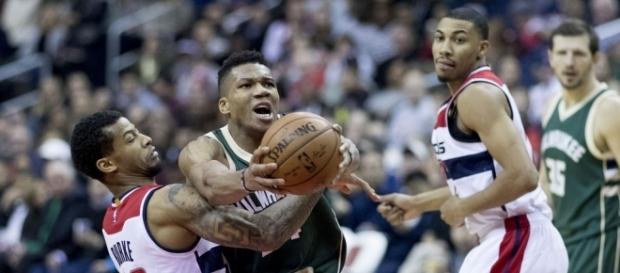 The Milwaukee Bucks started their season with a win against the Boston Celtics, 108-100. The first quarter (24-26) and third quarter (18-27) ended with The Celtics leading the scoreboard. However, The Milwaukee closed out the gap by collecting 34-27 in the second quarter and 32-20 in the fourth quarter, wrapping up the game with an 8 point lead (108-100). The Bucks performed with a total of 50.0% field goals, 33.3% in the 3 point range and 83.3% free throws against the Celtics with 42.9% total field goals, 39.3% 3 point shots and 52.4% free throws.
The Greek Freak Antetokounmpo led the Bucks scoring 37 points
The Bucks had an impressive performance on Wednesday night led by Giannis Antetokounmpo scoring 37 points (13/22 FG, 0/1 3Pt, and 11/13 FT), thirteen rebounds, three assists and four personal fouls in 36 minutes.
Followed by his teammate Malcolm Brogdon with a score of 19 points (6/10 FG, 3/5 3Pt, and 4/4 FT), one rebound, four assists and two personal fouls in 41 minutes. Likewise, Khris Middleton scored 15 points (6/17 FG, 1/5 3Pt, and 2/2 FT), nine rebounds, six assists and four personal fouls in 43 minutes. Antetokounmpo led the team despite having more turnovers (five) than assists (three). In his fifth-year as forward, he continues to be a major candidate in the race for MPV this season. His last year campaign earned him an All-Star status due to his innate scoring ability. Meanwhile, Brogdon showed in this game that although he is not that spectacular, he is extremely steady in every angle of this play. His ability to defend multiple positions allowed his mate backup point guard Delladova to see only 26 minutes of the game.
Nevertheless, the two players serve as backup playmakers when The Greek Freak Antetokounmpo is on the court.
Jaylen Brown of Boston Celtics scores 18 points
Brown efficiently produced 18 points (6/11 FG, 2/3 3Pt, and 4/5 FT), five rebounds, three assists and six personal fouls in 28 minutes. Kyrie Irving followed with 17 points (7/25 FG, 2/7 3Pt, and 1/2 FT), four rebounds, three assists and one personal foul alongside Al Harford knocking off 13 points (6/11 FG, 0/2 3Pt, and 1/1 FT), six rebounds, four assists and three personal fouls. This is the second straight game that Brown is Celtic's leading scorer. Brown's lone mistake in this game was his six fouls which forced him to sit on the bench in the fourth quarter until the rest of the game. With Hayward's injury, opportunity comes for youngsters such as Brown and Jayson Tatum to quickly develop their skills through increased game time. #Regular Season #Milwaukee Bucks #Boston Celtics