Kyrie Irving chooses Kobe over LeBron
Kyrie Irving has come out and given his opinion between who the greater player is, Bryant or James.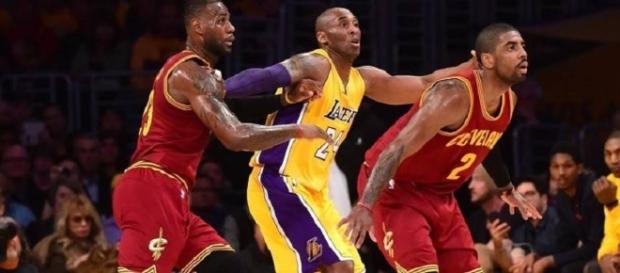 #Kyrie Irving recently appeared on a segment on ESPN's First Take with Stephen A. Smith and Max Kellerman. In this interview, Kyrie was asked a bunch of questions regarding his decision to request a trade from the Cleveland Cavaliers, and also some random 'who's better' questions. One of which, was posed to Kyrie asking him who he would pick between the Los Angeles Lakers' legend Kobe Bryant and the Cleveland Cavaliers legend LeBron James. A question that has been asked many times over the past decade and a half.
Irving with no love for the King
Without even mentioning his name, Kyrie Irving gave us enough of an indication of who he prefers and thinks is the better all-time basketball player between Kobe Bryant and #LeBron James.
Stephen A. asked, "You respect your teammate, your former teammate now LeBron James. But you love Kobe. A lot of people look at Kobe and LeBron. Which one should we go with, as we look at history? You're a basketball savant," to which Kyrie replied with a pause, then, "Man they're both up there, but in terms of who my favorite player is: My dad first, Kobe second. You know how I feel about that,".
Kyrie didn't make his answers to the questions posed to him during his appearance on ESPN's First Take, but he still told us enough to take note from. But it just seems that Kyrie Irving [VIDEO] is being a little disrespectful toward LeBron James, he mentioned Kobe's name but not LeBron's when answering questions. In addition to that, his whole interview on ESPN was centered around his trade request from the Cleveland Cavaliers and his apparent friendship breakup with King James, and he managed to speak about James but didn't once mention his name, referring to LBJ as 'he.' It's hard to tell if Kyrie has a hatred or is envious of LeBron, but what fans and media have gathered from the interview recently, it seems that way.
Kobe is a mentor to Kyrie
Kyrie Irving has brought it to the media's attention in the last few years and especially this past season that he idolizes Kobe Bryant. It was reported that after the 2016 NBA Finals game seven, when Kyrie won his first championship, the first person he spoke on the phone to was Mr. Kobe Bean Bryant himself. And he has expressed on many occasions that the two people he looks up to the most are his father who has been supportive of him for his whole life, and the Black Mamba himself. I guess it's no surprise that he picks a man he looks up to over LeBron, but maybe there is still that little bit of envy and bitterness towards King James causing him to make that decision. Whether Kyrie truly believes Kobe is greater than LeBron is unknown, but we can make a good assumption he is picking favorites between the two rather than making his decision on who the better basketball player is. #Espn First Take