Mystics defeat Liberty 82-68 to advance to semifinals
Washington pulled off a major road upset in the WNBA Playoffs on Sunday.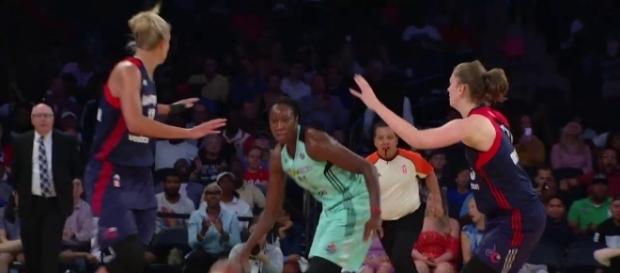 It was a day of surprising upsets in the second round of the WNBA Playoffs. In the day's early action, the Phoenix Mercury outlasted the Sun in Connecticut. In the second game on the schedule, #Elena Delle Donne and the Washington Mystics defeated the #New York Liberty by 14 points. That means the two lower seeds will be moving on to face Minnesota and Los Angeles in the next round. Here's a look at the Mystics vs. Liberty game recap with top performers, stats, and what's next for the teams.
Playoffs game recap
After defeating the Dallas Wings in the first round, it was time for an encore for the Mystics. Today's Washington Mystics' win was led by several players including Elena Delle Donne and Kristi Toliver.
Delle Donne finished with 18 points and 10 rebounds for her team. Toliver shot 10-for-20 including a 9-for-16 rate from three-point range to finish with a team-high 32 points to go with four assists and two boards. Krystal Thomas also scored in double-digits with 11 points along with six rebounds and two blocks.
The Washington Mystics shot 39.5 percent compared to 45 percent for the home squad. However, the Mystics knocked down 11 of their 3-point shots and won the rebounding battle 37-33. They also controlled the ball well with just six turnovers all game whereas the Liberty had 15 costly turnovers in the game.
Tina Charles led the scoring effort for the New York Liberty with 18 points on 8-for-17 shooting and grabbed six boards. Bria Hartley scored 15 points to go with five assists while Epiphany Prince scored 12 points and had five rebounds.
Center Kia Vaughn was held scoreless in the game but came up with six rebounds.
New York started out strong with a 21-10 lead after one quarter, but the Mystics bounced back with a 25-20 quarter to end the first half down six points. The Mystics turned things up in the third with a 25-10 pace followed by a 22-17 fourth quarter to pull away with this game on the road.
Standings & what's next
Today's home loss is a tough one for the New York Liberty and their fans. The team surged down the final part of their season with a nine-game winning streak to close it out. Today's loss halted that streak and on their home court nonetheless. It means back to the drawing board for the Liberty and their stuff in the offseason as they prepare for the 2018 campaign.
With the Washington Mystics' victory today they move on to face the No. 1 seed Minnesota Lynx in the next round. That will be the semifinals round of the WNBA Playoffs. In the other side of the bracket, the Phoenix Mercury will take on the Los Angeles Sparks. Both games will take place on Tuesday, September 12th with ESPN2 televising the doubleheader. #NBA