Draymond Green saw different on Kyrie Irving's request to be traded
Golden State Warrior's Draymond Green answers questions about the Kyrie Irving trade.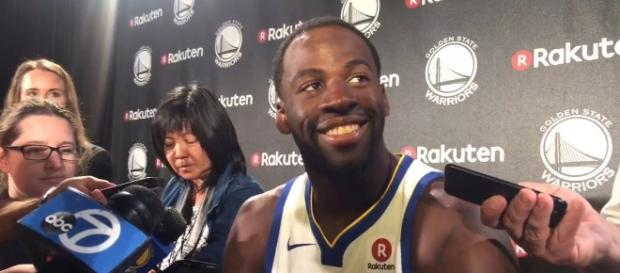 Golden State Warriors' #Draymond Green is one of the most outspoken players in the NBA and recently during an interview with Warriors-Rakuten presser, he said something about the #Kyrie Irving trade that stood out among the typical notion that Irving "just didn't want to play with LeBron James" anymore. According to Green, the immense respect he has for Kyrie goes beyond his courage to shy away from a team that gave him a championship ring.
Draymond Green comments on the Kyrie Irving trade
"I don't think people take into account he put so much pressure on himself by doing that. But the willingness to do that, knowing the pressure that comes with that and saying I'm ready to do it, let's do it," Green said.
However, the Warriors' power forward is not surprised that Kyrie decided to leave. In fact, it happened to other big names in the NBA including Chris Paul who recently became a Houstonian.
While Green acknowledges LeBron James as one of the greatest players, he further mentioned that Kyrie Irving is ready to deliver without the help of LeBron James. Noting that Kyrie is not even a free agent, Green said, "That's big. That says a lot." Noting that Kyrie's choice of teams did not include the Boston Celtics, Green said he's probably ready for anything, and regardless of what team he will end up on, he will make it work and is ready for the challenge.
Kyrie Irving and his request for a trade
In June, Kyrie Irving spoke to Cleveland Cavaliers owner Dan Gilbert expressing his wish to be traded.
Rumor is that the request to be traded was accompanied by his choice of teams - mainly the New York Knicks, Minnesota Timberwolves, and the Miami Heat. He was eventually traded to the Boston Celtics for Isaiah Thomas, Ante Zizic, and Jae Crowder and he couldn't complain. Apparently, any team would have sufficed as long as he's able to leave Cleveland.
During Kyrie Irving [VIDEO]'s Boston Celtics introduction a week ago, he said: "In this basketball, me perfecting my craft is very important to me." As opposed to rumors that he did not want to play with LeBron James anymore, Kyrie said the reason for his transfer is purely motivational. "When you have the unique opportunity of having special people and being a part of an organization like this, and they do everything possible in order to put themselves out there to make such a great thing happen, you just appreciate it and I'm grateful I can't wait to get on the floor and maximize my potential," he added. #Golden State Warrior