Atlanta guard charged with misdemeanor battery and Murray stays with Denver
Dennis Schroder caught on tape having heated exchange with victim and Denver holds on to Murray.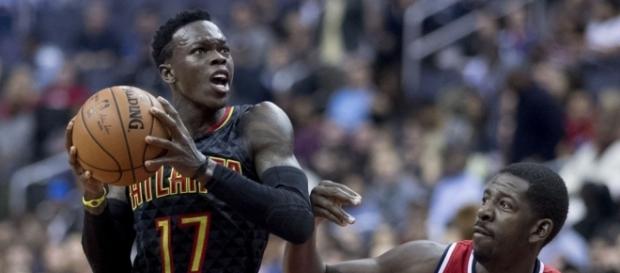 The point guard position has become one of the most competitive positions in the NBA the past years. With the emergence of Steph Curry, Russell Westbrook, Kyrie Irving, and John Wall the NBA is now filled with Athletic, crafty, and deadly point guard shooters. This offseason the rising star point guard of the Atlanta Hawks, #Dennis Schroder, was caught in an incident at a hookah bar according to ESPN. On the flip side, another rising star point guard in Jamal Murray will stay with the Denver Nuggets next season as reported by NBA.com
Dennis Schroeder charged with misdemeanor battery
Adrian Wojnarowski of NBA ESPN has reported that Dennis Schroder is in trouble, as he was caught on a security camera having a heated exchange with a victim.
The incident happened in a hookah bar, early Friday morning, and in an Atlanta suburb.The Atlanta Hawks have already released a statement saying that they already have knowledge of the incident and that they are currently gathering and waiting for more information regarding the situation before they can comment on the incident. Dennis Schroder may face fines and suspensions.
Dennis Schroder entered the NBA in the offseason of 2013 where the Atlanta Hawks drafted him with the 17th overall pick. Ever since his rookie season Schroder has improved remarkably well, he is now one of the few players that were part of the 2015 miraculous season that remains with the Atlanta Hawks. After the decision to rebuild, Dennis Schroder had more minutes which resulted in him playing his basketball so far.Last season he had career highs in points, steals, assists, rebounds, and minutes played.
He averaged 24.7 points, 1.2 steals, 7.7 assists, and 2.3 rebounds while shooting 45.5 percent from the field, 53.2 percent from the three-point line, and 83.8 percent from the free throw line in 35.2 minutes per game.
Murray's option gets exercised by Denver
NBA.com has reported that the Denver Nuggets have exercised the fourth-year option on Jamal Murray. Trey Lyles, Juan Hernangomez, Emmanuel Mudiay, and Malik Beasley's option has been exercised along with Murrays. This move will show how committed the Nuggets are with their young core. WIth the departure of their leading scorer in Danilo Gallinari, the young guys need to step up offensively this upcoming season. Murray was drafted with the seventh overall pick in last years NBA draft by the Denver Nuggets, and he has shown throughout the season then he can be a really effective and efficient three-point shooter. #Caught On Tape #Misdemeanor Battery