NBA Trade: Kyrie Irving for Carmelo Anthony
What if the Cleveland Cavaliers agreed to send Kyrie Irving to New York Knicks for Carmelo Anthony?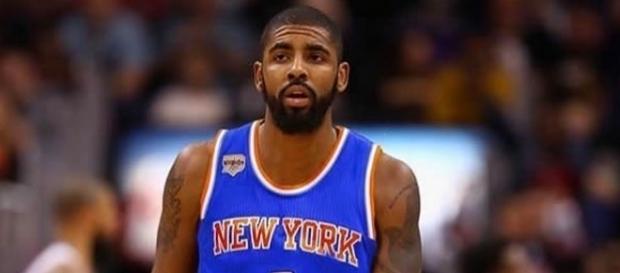 #Carmelo Anthony still wants to be traded out of the New York Knicks even after Phil Jackson left the front office. The bad blood Jackson ignited has created deep wounds; the only way to heal is for Melo to leave. Currently, he's just awaiting confirmation whether he will be traded to the Houston Rockets or Cleveland Cavaliers, the two teams he's willing to waive his no-trade clause [VIDEO].
Kyrie Irving also wanted out [VIDEO] not because of bad blood against the Cavaliers front office. He just wants out of LeBron James' shadow and he can no longer wait until next season when King James can opt out the remaining one year on his contract.
Plus, there's no guarantee he'll leave Cleveland though there were rumors. Now somehow, it looks like prolonging the trade seems to aggravate the issue.
But why don't the two franchises just swap their superstars? Melo to Cleveland and Kyrie to New York -- both wanted to become part of these teams. And somehow, it looks an upgrade to both teams, definitely could serve well for both the Cavaliers and the Knicks.
Kyrie to New York
Needless to say, when a team is without a great backcourt general, you can almost certainly count them out. Most teams who qualified during the last NBA Playoff were led by great point guards: Boston Celtics, Washington Wizards, Houston Rockets, Oklahoma City Thunder, Los Angeles Clippers, Memphis Grizzlies, and the eventual champions, Golden State Warriors.
Somehow, having a superstar point guard tends to rub the tenacity onto his teammates into playing their best games every night.
The New York Knicks have lots of talented big men who can drive strong to the basket at any given time, but they lack a backcourt general, one who can feed them alley hoops, pick and rolls, and timely passes among others. #Kyrie Irving is definitely the right player for the job. The one thing that will stop the Cavaliers front office from sending him to New York is the idea of helping create another powerhouse in the East.
Carmelo to Cleveland
Carmelo Anthony is one of the best offensive players in the NBA, no doubt about it, averaging at least 20 points every season since his rookie year back in 2003. His defense at the No. 3 spot though, is one of the worst in the NBA. So how sending Melo to Cleveland could benefit the team?
With Melo on the floor, LeBron can focus on defending Kevin Durant, undoubtedly the man behind their defeat last NBA Finals. No one can stop KD except LeBron, but he obviously cannot do both offense and defense at the same time. The key is to put LeBron on KD; Melo carries the offense and then hope that Derrick Rose remains healthy throughout the season.
The Knicks have no problem sending Melo to Cleveland; the problem is with the Cavaliers front office. First, both LeBron and Melo will have player options in 2018. Add to the rumors that Magic Johnson and the Los Angeles Lakers will aggressively pursue LeBron in the free agency. Yet the best reason to stop LeBron from leaving (again) is winning another NBA championship, and Melo can definitely help. #NBA Trade Rumors