Michael Beasley joins New York Knicks for one-year deal
Michael Beasley signed his contract with the New York Knicks and experts are saying he could conribute more to the team once Carmelo Anthony is out.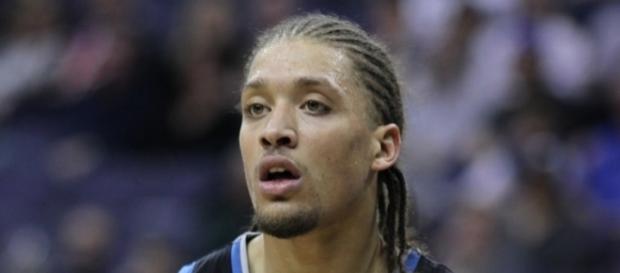 The #New York Knicks added another player in their roster and it is in the person of 2008 No. 2 overall draft pick #Michael Beasley. Beasley signed a one-year deal with the NBA team worth $2, 116, 955.
Beasley's role unclear
The New York Knicks did not discuss the details of the deal, nor did they comment on what Beasley's role will be on the team. The New York Times reported that the only way for Beasley to get a lot of playing time is if Carmelo Anthony leaves, filling in at Small Forward.
His addition also boosts the frontcourt of the Knicks. According to Sporting News, he will most likely play alongside Kristaps Porzingis and could contribute on the offensive end.
ESPN tells us that last season, Beasley played for the Milwaukee Bucks where he averaged 9.4 points and 3.4 rebounds every 16 minutes per game. The New York Knicks is the sixth team that Beasley played for in the past 10 seasons he has been in the NBA. In all his 509 games, the Christian Post wrote that the 6 foot 9 player "averaged 12.6 points and 4.7 rebounds per 23.5 minutes in a game."
Aside from playing in the United States, he also played in China for Shanghai and Shandong from 2014 to 2016 respectively.
Beasley's addition makes Knicks' contracts to a total of 15
The addition of the former Miami Heat player has increased the total number of contracts with the New York Knicks to 15 for the 2017-2018 NBA Season. Both Beasley and Ramon Sessions recently signed deals with the NY team. Aside from the 15 contracts, NY Knicks also has one two-way contract after Luke Kornet joined the team.
If Knicks still want to add a player to their roster, they can only acquire one who has a two-way contract. Athletes who are on the two-way contract could spend time with the NBA and the G League.
Knicks continues to fix their front office
The front office of the New York Knicks recently changed again. Steve Mills is the new team president and Scott Perry is the new general manager. Craig Robinson is the vice president for the Knicks for player development and G-League operations and Gerald Madkins joined the front office as the assistant general manager.
Perry is responsible for the new hires as he said that after he became the new general manager, he started off with a full evaluation of the "basketball operations staff" of the Knicks. He said in a Knicks press release, that building the highest-level front office in the whole league was his first goal in order to lay the ground for a better team for the years to come. #Carmelo Anthony