NBA Summer League Vegas 2017 results: Mavs, Celtics & Heat win in round of 16
Dennis Smith Jr. put on another great scoring performance, while several other rookies sat out on Thursday.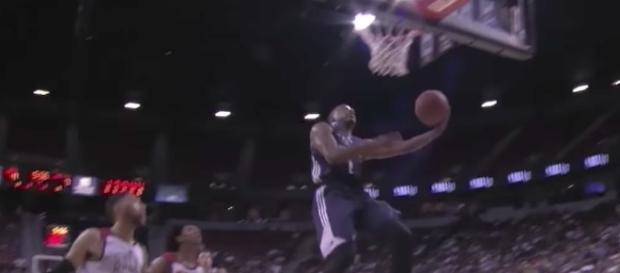 The Las Vegas #NBA Summer League began its single-elimination tournament on Thursday, although many of the top rookies were on the sidelines watching. While the Boston Celtics, Dallas Mavericks, and Miami Heat were among the winning teams, Jayson Tatum, #Dennis Smith Jr., and Bam Adebayo weren't on the court for those wins. Here's a look at some of the winning teams that will move on to the next round in the NBA Summer League Las Vegas.
Thursday winners
In Thursday's action, the Boston Celtics routed the Golden State Warriors 93-69 thanks to 14 points and 10 rebounds from Ante Zizic. Boston was without its top young stars Jaylen Brown and Jayson Tatum, who sat out with a bruised right quadriceps and right patellar tendonitis injury, respectively.
Boston has now won four-straight games in their #Vegas Summer League participation.
Also winning their game on Thursday was the Miami Heat. They defeated the L.A. Clippers 91-84 behind 23 points and eight rebounds from Okaro White. Justin Robinson and Gian Clavell came off the bench for a combined 42 in the game, but Bam Adebayo sat out due to the coach's decision to rest him. The Clippers' Brice Johnson led his team with just 13 points on 6-for-12 shooting.
Okaro White drops 23 as the @MiamiHEAT top the @LAClippers 91-84! pic.twitter.com/PWe6zo0wZX

— NBA (@NBA) July 14, 2017
The Memphis Grizzlies bested the Phoenix Suns 102-98. The No. 4 overall pick from this year's draft, Josh Jackson, finished with 13 points and eight rebounds. Memphis moved to 4-0 in the Vegas Summer League thanks to 33 points from Wayne Selden on 10-for-17 shooting, and 21 points from Wayne Baldwin IV as well as seven boards.
In addition, the Dallas Mavericks outlasted the Sacramento Kings, 83-76. Rookie Dennis Smith Jr. led the way for Dallas with 25 points and seven rebounds. Smith Jr. shot 7-for-15 overall and 4-for-8 from downtown in the win. Smith nearly blew the roof off the arena too with a vicious "attempted dunk" that didn't go down for him.
Dennis Smith with a ridiculous play, if he dunked this Las Vegas explodes pic.twitter.com/fqauezVFPo

— CJ Fogler (@cjzero) July 14, 2017
The Kings' De'Aaron Fox was held scoreless and was on the court for just seven minutes but managed to record three assists and a steal. His fellow rookie Justin Jackson scored 25 points on 9-for-18 shooting to lead the team while Luis Montero added 13 points and nine rebounds.
Other games
The San Antonio Spurs' squad defeated the New Orleans Pelicans 86-81, while the Brooklyn Nets took down the Denver Nuggets 85-74. That puts San Antonio and Brooklyn into the quarterfinals. As of this report, the Portland Trail Blazers and Toronto Raptors had just started their game.
A nightcap game to finish off the day's Round of 16 games was set to be played between the Cleveland Cavaliers and Los Angeles Lakers. Just a night earlier, rookie Lonzo Ball exploded for 36 points and 11 assists with "The King" LeBron James watching his performance. On Thursday night, he'd have another chance to show his stuff, this time against the King's team, albeit a roster of the younger stars or aspiring veteran talents.