Will Dwyane Wade head for the Cleveland Cavs to play with LeBron James?
D-Wade can opt out of his Bulls contract and go anywhere he wants next year. Will he be suiting up next to LeBron again?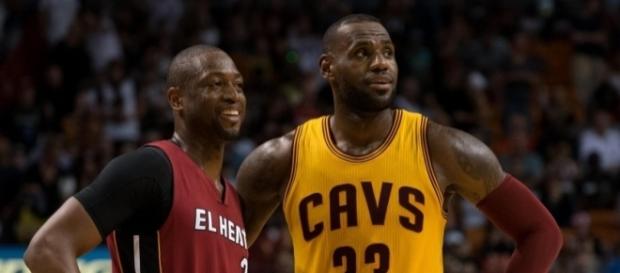 There's really no argument that #LeBron James and #Dwyane Wade play really well together on the court and off the court, they are great friends. Would it really be shocking to hear that Wade decided to trade in his Bulls jersey in order to make a move to the Cavs and play next to LeBron next year? It all depends on what offers are on the table and whether Dwyane Wade wants to give up the biggest paycheck of his career in order to play alongside one of the greatest once again.
D-Wade open to leaving Chicago Bulls after mediocre year
Dwyane Wade signed a 2-year deal with the Chicago Bulls last year when he left the Miami Heat after 13 seasons.
While Wade was paid well by the Bulls, his contract does include an opt-out clause, allowing the NBA star to leave for greener pastures if his first season with the Chicago team didn't pan out as well as he had hoped.
It turns out that Wade's first season really didn't go as planned and the Chicago Bulls managed to pull off a lackluster year with only a .500 win average. That's not good enough for Dwyane Wade, who turned 35-years old in January. As Wade gets older, he wants each NBA season to count which is why many don't expect him to play out his second year for the Bulls and will probably be looking for a new team with better odds of making it to the NBA Finals next year.
Will LeBron and D-Wade play together again?
That brings us to the real question of whether Dwyane Wade and LeBron James are going to play together again.
It's no secret that the former Miami Heat superstars want to come together again before their NBA careers are over. There has even been talk of an elite "banana boat" team that would have both James and Wade as members. The rest of the (at least for now) imaginary team is made up of Chris Paul and Carmelo Anthony who both have been the subject of trade rumors and free agency questions themselves.
It would be pretty exciting to see the four friends come together to form a team that even the Golden State Warriors couldn't touch. While it seems highly unlikely that LeBron, Dwyane, Chris, and Carmelo might all end up on the same team at the same time, it's possible with some very careful planning and if everyone is willing to take a pay cut.
What is more likely is that Dwyane Wade will be interested in making a move to Cleveland after the season ends and working alongside LeBron again. Wade recently talked to Bleacher Report about LeBron and what it means to be clutch. He clearly still has a lot of respect for his former teammate and current friend.
While Wade has said in the past that he's not chasing rings anymore, he also made it clear that he wasn't happy on a team that only wins half their games.
There has been a lot of speculation about where Dwyane Wade might land next year. Some believe he'll just stay put on the Bulls and pocket the $23.8 million paycheck that he already has locked up. After all, it will be the biggest payday of his career. If Wade decides to leave the Bulls and move to another team, he might end up somewhere that makes the playoffs but he may also get paid a whole lot less. A move to the Cleveland Cavs would likely be a smaller payday for Wade but he'd also have his friend back. After years of taking pay cuts in order to pick up decent players while playing with the Heat, it will be interesting to see what Wade decides to do in July when he has to decide if he will stay or if he will go. #Cleveland Cavaliers